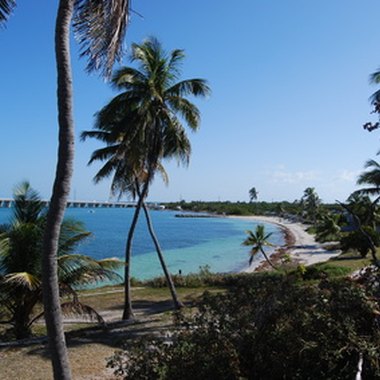 With its outdoor restaurants, parks and a beach just for dogs, Key West could be the ideal destination to bring your pet. You can pick up some organic treats for your dog or cat at pet boutiques like Dog Thirty or let your animal play to his heart's content on Dog Beach, which welcomes critters of all kinds. Many hotels in Key West allow pets, and some of them even cater to animals with special beds and treats.
The Palms Hotel
Nestled in the Old Town of Key West, the main house of the Palms Hotel is a fancy Victorian home built in 1889 with all the modern amenities like secure Wi-Fi and a heated pool that is open year-round. The Palms is more than pet-friendly--it's pet-welcoming, with up to two dogs and cats allowed per room and a long list of restaurants, bars and activities that allow your furry friends. Only a few rooms can handle animals between 35 and 50 lbs., so call far in advance to book your stay.
Orchid Key Inn
If you're looking for a convenient location to stay with your pet in Key West, you can't beat the Orchid Key Inn on Duval Street, just one block from the Hemingway House, lighthouse, and many bars and restaurants. The inn offers free breakfast and a complimentary happy hour, and if you need help planning pet-friendly outings, the concierge is available 24 hours a day. Small pets under 20 lbs. are allowed, but you must speak with the hotel about specifics and availability.
Ambrosia Key West
The Ambrosia Key West offers a variety of rooms, suites and townhouses with private entrances and verandas, all decorated with the work of local artists. The accommodations are well-suited for families because of their privacy and roominess, and you'll be within walking distance of Mallory Square and Duval Street. There is a one-time $35 fee if you bring along your pet, and there is no weight limit at the Ambrosia Key West. When asked, a staff member said, "As long as it's not a horse, we don't care what size animal you bring."
Westin Key West Resort & Marina
If you want to be in the middle of the action, try the Westin Key West Resort & Marina, which sits just steps from Mallory Square and all of the lively bars and restaurants of Old Town. Many of the 178 rooms and suites overlook the turquoise waters, and the Westin Key West has the largest on-site hotel marina in town. If you need help planning an off-shore fishing trip or want to know where the dog park is, ask the friendly staff that has a AAA Four-Diamond rating for service. Dogs up to 40 lbs. are welcome at the resort, and there is no fee for pet-owners.
Resources
Orchid Key Inn, 1004 Duval Street, Key West, FL 33040, 305-296-9915