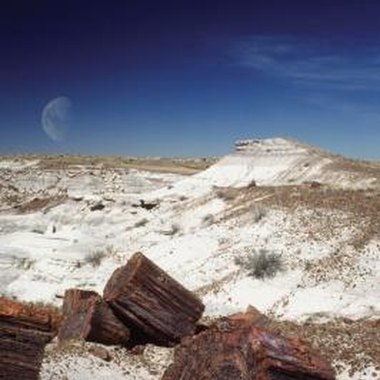 In the high desert of Arizona, the Petrified Forest, home to the world's largest concentration of petrified wood and the painted desert, is a link to a time past. It is somewhat isolated with the nearest hotels at least 25 miles away in the small town of Holbrook. Much of the lodging is along Navajo Boulevard, just off Interstate 40 and the historic Route 66. Visitors find accommodations for every budget and taste, including a whimsical mid-20th century motel made famous on Route 66.
Higher-Budget Hotels
Holiday Inn Express and the Best Western Arizonian Inn are 100 percent non-smoking hotels. Both have complimentary breakfasts. The Arizonian Inn has a complimentary soup, salad and dinner buffet, and a Denny's restaurant is also on the premises. With restrictions, the Arizonian will accept pets, but you must pay a refundable security deposit at check-in. Holiday Inn Express accepts only service animals and charges a $200 fine for any other animal brought into the hotel. Both hotels are located on Navajo Boulevard.
Mid-Budget Hotels
Several Holbrook hotels fall into the mid-budget range, below $100 per night as of 2010. These include a second Best Western, the Adobe, and the Wyndham family hotels of Days Inn, Travelodge and Ramada Limited. Comfort Inn is also included in this category. All are on Navajo Boulevard except the Adobe, which is on Hopi Drive, also off Route 66. All offer complimentary breakfasts. The Adobe, Ramada and Comfort Inn are pet-friendly, with the Ramada noting it has an indoor pool, and also has rooms where pets have not been allowed. Days Inn and Travelodge do not allow pets.
Value Rate Hotels
Hotels with rooms under $60 in 2010 include Econo Lodge, Super 8, America's Best Inn, America's Best Value Inn and Knights Inn, all on Navajo Boulevard. America's Best Inn features a linen re-use program and EcoRooms which are water and energy efficient. This hotel offers complimentary breakfast and allows pets, as do America's Best Value Inn and Econo Lodge. Super 8 provides a continental breakfast, but does not accept pets. Knights Inn rates in 2010 range from $35 to $50 per night.
An Unusual Hotel
The Wigwam Motel has been a fixture on Route 66 since the 1940s. Constructed of wood and concrete, the fifteen 32-foot-high tepees each hold a room with the hand-carved hickory furniture that has furnished them from the beginning. Renovated in the 1980s, the motel is still run by the family that built it. Frommer's notes that windows and bathrooms are small, but do not detract from the unusual experience of sleeping in a tepee. The motel's ambiance is enhanced by the vintage cars scattered around the property. You can find huge pieces of petrified wood in the motel's small museum. This is a mid-budget, non-smoking motel, and pets are accepted, but the office doesn't open until 3 p.m. during the summer and 4 p.m. in the winter.
Photo Credits
Medioimages/Photodisc/Photodisc/Getty Images