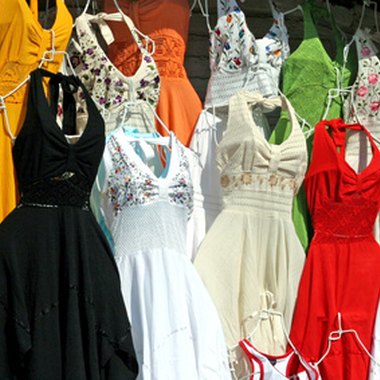 Old Town, considered the "birthplace of California," was the site of the first of 21 missions established by Father Junipero Serra beginning in 1769. Fifty years later, Mexican settlers established a small community and in 1846 the U.S. flag was raised for the first time in Old Town San Diego Plaza. Recognized by the California State Parks and Recreation Department as a historic site in 1968, Old Town remains one of San Diego's primary attractions. Staying at an Old Town hotel with free parking is a way to save money while on vacation or business traveling.
Layover Parking
While Old Town is a popular tourist destination, some travelers use the centrally located neighborhood as a convenient stopover before embarking on a cruise out of San Diego Bay or flying out of the city's downtown airport. The Comfort Inn Airport at Old Town hotel offers free parking to all guests, but also permits guests to leave their cars at the venue for the duration of cruise trips or round-trip flights out of San Diego. Airport transportation is complimentary. Business travelers can access the hotel's free wireless Internet access, copy machine, fax machine, meeting room and voice mail services.
Family Friendly
Kids love Old Town's live demonstrations of tortilla making, artisan craftwork and mariachi street performers. Staying at a family-friendly hotel can add to the experience. San Diego's Old Town Inn's heated outdoor pool features a barbecue area, so families can grill up corn dogs, fresh fish or chicken wings for an al fresco dinner after a long day exploring Old Town's historic buildings. Kids can access on-site arcade games or use the lobby microwave to conveniently make late-night popcorn or heat up instant hot chocolate (sprinkle on some ground cinnamon purchased from an Old Town shop that morning for a Mexican-style treat.) Money saved from free hotel parking can be used to purchase well-deserved margaritas for parents at one of Old Town's many family-friendly restaurants.
Theme Park Access
Old Town serves as a convenient gateway to San Diego's other area attractions. The Padre Trail Inn offers packages for travelers interested watching Shamu cruise the gigantic seawater tanks at SeaWorld or riding the double-decker buses at the San Diego Zoo. Keep the tourism agenda going strong by asking hotel staff for information about downtown San Diego's sailboat charters, golfing in Mission Valley or shopping in Fashion Valley's trendy boutiques. Since parking is free, there's more room in the travel budget to purchase a casual dinner or happy hour cocktail at the hotel's on-site restaurant and lounge.
Inexpensive Old Town
Travelers hoping to direct most of their travel budgets toward activities, food and entertainment rather than lodging and hotel parking may stay at the serviceable Old Town EZ 8, featuring free parking, wireless Internet access and coffee. Old Town's popular Harney Sushi restaurant, less than one mile away, features an upscale but inexpensive late-night happy hour with specialty rice-wine martinis, hand rolls, tasty miso soup and DJs spinning reggae music.