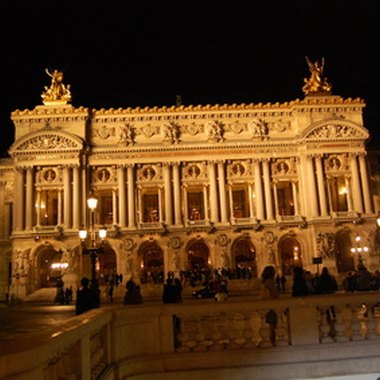 The City of Light boasts more than one opera house, but when Parisians mention "L'Opera," they are speaking of the magnificent Palais Garnier and surrounding neighborhood. Built on the orders of Napolean III, the Palais Garnier Opera is located in Paris' 9th arrondissement on the right bank of the Seine. This prime location -- near the ritzy Champs-Elysees and the Louvre -- offers a number of excellent, upper-tier hotels but nothing exceptional for the budget traveler.
Hotel Gramont
The Hotel Gramont might represent an American's dream of a Paris hotel. Only a few steps from the Opera de Paris, the hotel was built in 1810 on the property of Maréchal de Gramont and has maintained the charm of Parisian residences of that epoch. The lobby is friendly but elegant, and the 25 rooms are clean, cozy and charming, with excellent beds, fluffy pillows and well-designed baths. With air conditioning, individual heating and double-paned glass, you might not get up in time for the Gramont's excellent breakfast.
Burgundy Hotel
If your Paris dreams lean more toward modern, you might fall in love with the Burgundy Hotel, a five-star wonder that reopened in 2010 after three years of renovation. This is modern done right, offering quiet chic in a restful setting, blending contemporary furniture and luxurious textiles. The lobby is full of light and art. The floors throughout are padded and covered in silk, and the comfortable rooms feel both refined and luxurious, with padded armchairs, full-lead crystal lamps and delightful beds. Do not miss the exquisite pool and relaxing spa. With double-paned glass on every window, the only thing that will keep you awake at night is the thought of your credit card bill.
Best Western Premier Opera Diamond
American-size hotel rooms in a great location: That might be exactly what some folks are looking for in Paris, and the Best Western Premier Opera Diamond fits the bill. Glitzy and glamorous, the lobby of the hotel is done in black and white, as are many of the rooms. The baths are huge and modern, with large, soft bath towels. Rooms have the expected accessories. Room service is available but be sure to ask the price before ordering. English-speaking staff adds to the ease of this four-star hotel.
Hotel de Vendome
The Hotel de Vendome is a small, elegant hotel located at 1 Place de Vendome, one of the prime locations in Paris. It formerly was the ancestral home of the Vendome family, and even as you enter the hotel lobby, with its inlaid Italian marble floor and stunning chandelier, you are drawn into the "Vendome" experience. The hotel rooms are individually decorated, each one a delightful mixture of French antiques and art. Although the hotel has a well-regarded restaurant, you might want to keep your eye on the prices at breakfast, which is not included in your very expensive room tab.