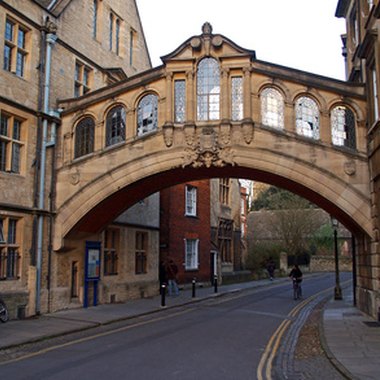 Since the first students arrived in the late 11th century, few places have hosted as many of the world's great intellects as Oxford Centre. Those students helped establish a vibrant social scene that continues to this day in and around Oxford Centre's hotels. From rambling weavers cottages dating to the 1600s to a staid, 18th century bank and a former bookstore, these hotels are as historic as they are comfortable.
The Old Bank Hotel
An 18th century High Street building housing a bank and various retail establishments for more than two centuries, the 42-bedroom, gray stone Old Bank Hotel features original artwork from several notable 20th century British artists. Rooms features include beamed ceilings, divided light windows and marble baths. Contemporary amenities include parking, broadband, flat-screen television, CD players and complimentary use of a nearby fitness center. In-room massage and beauty treatments are available. The hotel provides bicycles and late afternoon walking tours of Oxford Centre. Quod Brasserie, with live jazz on Sunday evenings, serves a Mediterranean-influenced menu highlighting pastas and pizzas. Burgers with beef raised on the hotel owner's own farm are a house specialty.
The Buttery
English Heritage, a government-funded group for the preservation of England's historically important buildings, protects the Buttery with a grade II listing. The 19th century bookshop now boasts a four-star Enjoy England (the official English Tourist Board website) Guest House rating. Sixteen large, comfortable guest rooms have calming pastel colors, Wi-Fi and flat-screen televisions. Some retain original fireplaces and many have Broad Street views. Guests head to the downstairs restaurant for complimentary breakfast. Along Broad Street are the Sheldonian Theater and the Museum of the History of Science. Patrons returning to the hotel after 6 p.m. buzz the night porter for admittance. The Buttery has no on-site parking; management recommends using the nearby park-and-ride services.
Mercure Oxford Eastgate Hotel
An inn has occupied the site where Oxford's Mercure Eastgate Hotel now stands since the early 17th century. The Eastgate's building, dating to 1900, retains a Georgian courtyard, and the llobby greets guests with gleaming hardwood floors and a warming fireplace. All 64 rooms feature contemporary decor with feather pillows, comfortable armchairs, mini bars and Internet. Tiled baths are standard. Some rooms have views of the Magdalen College towers. Limited parking is available. Divided-light windows, chandeliers and more hardwood floors set the tone for lunches and dinners at the on-site High Table Brasserie & Bar. Fresh local produce finds its way into a seasonal menu of contemporary continental cuisine.
Bath Place Hotel
Fifteen 17th century weaver's cottage rooms surrounding a secluded, Oxford Centre courtyard are now the Bath Place Hotel. They combine leaning walls, steep stairways and sloping ceilings with flat-screen televisions and mini bars. Complimentary Wi-Fi, soft sofas and real log fires await in the hotel bar. Bath Place offers nearby, secure, paid parking; free parking is a six-minute walk away. Guests enjoy continental breakfast in a cheery breakfast room with courtyard access. Just seconds away, the Edamame Restaurant offers lunches and dinners of fresh Japanese cuisine and sushi.
Photo Credits
christchurch college oxford image by Gary from Fotolia.com