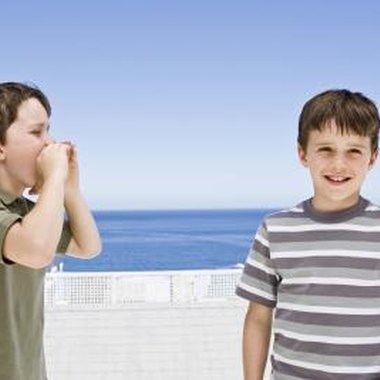 One of the more delightful trends in hotel accommodations for families is the concept of the kids' suite. A special children's area is sectioned off of the parents' room and decorated just for the little ones. In Orlando, where families rule, hotel stays become almost as much fun for children as the theme parks they visit during the day. Several hotels in the theme-park area of Orlando offer kids' suites.
Country Inn and Suites
Country Inn and Suites gives families who stay at their hotel free shuttle transportation to the nearby Disney theme parks and provides a game room for the kids video games and air hockey. Breakfast is continental, while other meals are available at local restaurants near the hotel. Joe's Crab Shack is within walking distance, along with Chili's and Giordano's Pizza. Rooms include a microwave and refrigerator. Country Inn's kids' suites are cheerfully decorated rooms just off Mom and Dad's room, and come with bunk beds and television.
Seralago Hotel and Suites
Seralago Hotel and Suites, which claims responsibility for the innovative kids' suite idea, offers cozy rooms for children with their own distinctive small furniture. These suites are geared to create a home-like atmosphere for families on vacation. Seralago offers several eateries, including a breakfast buffet and a casual dining area called The People's Choice Food Court that serves various types of sandwiches, pizza and salads along with ice cream, popcorn and candy.
Nickelodeon Suites Resort
Nickelodeon Suites Resort immerses kids in the Nickelodeon culture, with décor that reflects the personas of Nickelodeon characters that kids love, including SpongeBob, Dora, Rugrats and others. The kids' suites at Nickelodeon come in two- and three-room suites. The two-room kids' suite provides a microwave and refrigerator, while the three-room kids' suite has a full kitchen. The on-site Nicktoons Café provides breakfast plus a visit with a Nickelodeon character. There's a food court with fast food outlets plus a dining area for lunch and dinner.
Holiday Inn Sun Spree
Holiday Inn Sun Spree has an extensive shuttle system for getting guests to and from Disney parks, Universal, SeaWorld, the Orange County Convention Center and the outlet malls. Transportation to the convention centers of Gaylord Palms and Marriott World Center is also available. After a full day of exciting activities, families can relax in the kids' suites at Sun Spree. These units come with two bunk beds that will sleep four children. Enjoy a few simple meals in your microwave or locate nearby restaurants such as Lone Star Steak House and IHOP.
Ritz-Carlton Grand Lakes
Luxury and simple elegance await families at the Ritz-Carlton, one of two anchor hotels at Grande Lakes, where you can enjoy the grandeur of a premium facility and the exceptional service that it offers. The kids' suites, which are 480 square feet and include two twin beds and child-size table and chairs, are available as part of the Ritz-Carlton's Executive Suites package and come tastefully decorated and stocked with board games and toys. Dine at the Vineyard Grill, Bleu or Norman's on-site or choose an option at the co-anchor property, JW Marriott.
Photo Credits
Jupiterimages/Goodshoot/Getty Images