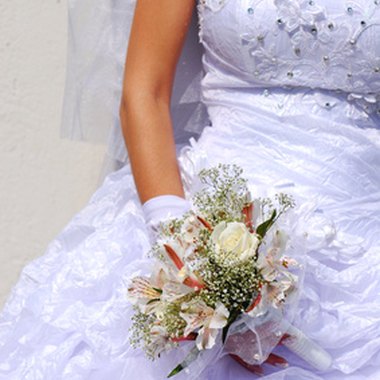 Warm sandy beaches, tropical gardens, clear waters blue skies and walking up to the altar in bare feet is the dream wedding ceremony for many couples. To help make this dream a reality, luxury hotels and resorts in Jamaica offer wedding services and packages to help make planning one of the most important days of your life easier, so all you have to focus on getting to the island paradise.
Half Moon Resort
Located on Jamaica's northern coast, the colonial-style Half Moon Resort provides guests with two miles of private beaches. The Half Moon offers eight different wedding packages to fit the needs and desires of the guests tying the knot at the resort. Each wedding package requires a specific length of stay at the resort and/or a maximum number of guests. Basic wedding ceremony packages include a wedding planner, an individual to officiate at the wedding, marriage license, bouquets and boutonnieres for the wedding party and a decorated gazebo or canopy. The Half Moon Resort also provides the food and set-up for a post-ceremony cocktail hour, a three-course dinner or buffet, disc jockey, wedding cake, photographer and professional salon services.
Couples Resorts
The first Jamaican accommodations for couples only, the Couples chain of resorts includes the Couples Tower Isle and Couples Sans Souci in St. Mary, Couples Swept Away in Westmoreland and Couples Negril in Hanover. However, the resort makes exceptions to the couples-only rule when it comes to a wedding party as at least 50 percent of the bride and groom's guests must stay at the same Couples resort. The Couples Resorts offer six different wedding packages. The basic wedding package includes an efficient, wedding coordinator, bouquet, boutonniere, sparkling wine, wedding cake, his and her massages and "Just married" t-shirts. Other wedding packages include photography services, personalized wedding souvenirs, "Sunset Hour" ceremonies, a full bar and so on.
Breezes Grand Resort & Spa
Part of the Breezes chain of hotels and resorts, the Breezes Grand Resort & Spa in Negril on the southwest shore of Jamaica is situated upon 22 acres of tropical gardens. The Breezes Grand Resort & Spa offers three different wedding packages, and requires the bride and groom to be at the resort a minimum of 48 hours prior to the ceremony. The basic wedding package includes a marriage officer or minister, champagne, wedding cake, marriage license, wedding planner, four guest passes, a free three-night anniversary stay, music, "Just married" t-shirts , a framed photo of the couple and a flower arrangements for the bride and groom. The other Breezes Grand Resort & Spa wedding packages include a couple's massage, turndown service, a tour of the area and breakfast in bed.
Sandals Resorts
With Jamaican locations in Montego Bay, Negril, Ocho Rios and the Whitehouse area, the options for a destination wedding are numerous. The Sandals resorts in Jamaica offer nine different wedding packages that range from a basic to group wedding options. Basic wedding packages include a wedding consultant, marriage license, wedding officiate, bouquet and boutonniere, wedding gift from the resort, wedding photograph, hors d'oeuvres, sparkling wine, wedding cake and breakfast in bed. Other Sandals wedding packages include five different Martha Stewart wedding themes, a special ceremony for couples who already have children and group weddings.
Photo Credits
Wedding bouquet the bride on background of wedding dress image by Aliaksandr Zabudzko from Fotolia.com