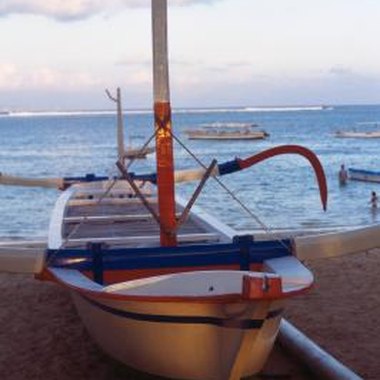 While Bali's south coast is where the well-known resort communities like Sanur, Kuta and Nusa Dua are located, this is not the only place on the island to luxuriate by the beach. Northern Bali has its own set of coastal towns that, while less heavily trafficked, offer a diverse range of guesthouses, hotels and resorts.
Locations
The area where visitors choose to stay in northern Bali can have as great an impact on their travel experience as their chosen hotel. Towns such as Pemuteran and Lovina offer plenty of lodgings in the spartan, backpacker-oriented guesthouse and mid-range hotel categories, with a sprinkling of upscale resorts. These places are much like other resort towns in Bali, only less crowded. However, Bali's northwestern corner is occupied by Taman Nasional Bali Barat, the largest park on the island. This area has a few hotels and resorts amid the tropical forest and offers a setting for outdoor activities from birdwatching to scuba diving.
Menjangan Resort
Described by Frommer's as a "nature lover's paradise" and a "well-kept secret" because of its remote location in Taman Nasional Bali Barat, Menjangan Resort sits on an almost 900-acre forested property with its own beach facing Menjangan Island, one of the major scuba diving destinations on Bali. Most accommodations at the resort are either in the lodge or in one of the waterfront gazebos. The latter are simple bungalows situated amid the oceanfront mangroves. Each gazebo has its own deck, although some have shared bathrooms. The lodge offers hotel-style rooms with dark wood flooring, furniture and ceilings, and the resort also has a three-bedroom rental villa. The Menjangan Resort also maintains its own stable of horses for beach and trail rides, as well as its own yacht.
Puri Ganesha Villas
An upscale resort in Pemuteran, Puri Ganesha Villas was once voted "World's Best Beach Hideaway" by Travel+Leisure and is rated as "Exceptional" by Frommer's. Accommodations consist of four one- to three-bedroom villas with kitchenettes. Each villa has wood flooring and comes furnished with antiques in a Caribbean-meets-Bali decor, with open-air bathrooms featuring coral walls. The villas are centered on a private swimming pool, and the hotel's stretch of beach is serviced by a set of Balinese-style rice barns serving as day shelters. Topping it all off are cooking classes run by the hotel's owner.
Rambutan Boutique Hotel
This 28-room family-operated hotel in Lovina is something of a local institution and considered a child-friendly establishment by Frommer's. Rooms have tile floors and Asian-inspired, contemporary rattan or teak furnishings; prices are mid-range. The Rambutan also owns three rental villas that have kitchenettes and TV with DVD players. About a five-minute walk from Lovina's black sand beach, the hotel has two swimming pools and a spa and offers its own cooking classes. The Rambutan also runs tours of local sights, including the Banjar hot springs and spa and Bali's only Buddhist monastery.
Photo Credits
Jupiterimages/Photos.com/Getty Images