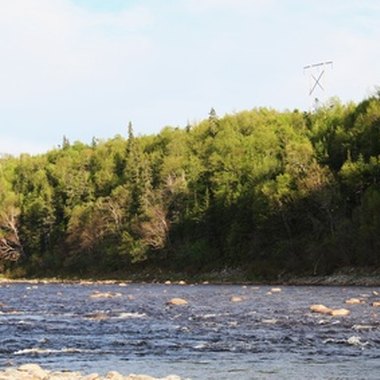 Newfoundland & Labrador keeps tourists busy no matter the season with outdoor activities and seasonal events. This Canadian province has an extensive Atlantic coastline lined by historic lighthouses. Visitors can camp and observe Canadian wildlife at 13 regional parks including the Lockston Path Provincial Park. The Mount Pearl Frosty Festival held each February is among seasonal fairs hosted by local communities. Travelers select from hotels and inns throughout Newfoundland & Labrador to build their itineraries.
Bed and Breakfasts
Bed and breakfasts make guests feel at home during their Newfoundland vacations. A Bonne Esperance House Heritage Inn utilizes rugs, lights and art from the late 19th century to emulate Victorian styles. Guests can sample French and Canadian cuisine during daily breakfast before setting out for Newfoundland attractions. The Wildflowers Country Inn maintains four guest rooms with hardwood floors and rustic decor. This bed and breakfast works with local trail guides to provide regular tours of nearby Gros Morne National Park. Travelers can view nearby mountains and forests from the inn's sun deck.
St. Lawrence Hotels
The Gulf of St. Lawrence coast is lined with hotels that fully utilize their waterfront locations. The Fisherman's Landing Inn allows guests to enjoy fresh sea air with opening windows in each room. This property is home to the Dining Room, which serves fresh seafood from local anglers during nightly dinner service. The Palace Inn maintains five rooms and two honeymoon suites with nautical decor in a renovated 19th-century home. Guests can head to the second-floor terrace to view the Gulf of St. Lawrence and surrounding communities.
Conference Hotels
Conference hotels in Newfoundland cater to business groups as well as casual tourists. The Delta St. John's Hotel and Conference Centre contains 12 meeting rooms as well as the 1,100-seat Avalon Ballroom. Patrons at this St. John's hotel can squeeze in exercise at two squash courts before seafood dinners at Mickey Quinn's. The Glynmill Inn offers seven conference rooms capable of holding more than 300 guests. This property also contains dining options like King Henry's Pub and the Wine Cellar Restaurant available for catering and sit-down dining.
Boutique Hotels
Newfoundland offers several boutique hotels with unique accommodations and amenities. The Murray Premises Hotel provides stunning views of St. John's and Beck's Cove. This property offers stylish guest rooms with fireplaces, vaulted ceilings and exposed brick walls. Guests can order seafood and salads at the hotel's Gypsy Tea Room. Long's Hill Suites is an all-suite hotel housed within a large home built back in 1892. Each suite recreates the comforts of home with board games, kitchen appliances and a dining table.
Photo Credits
Stream in Newfoundland image by Denise Horn from Fotolia.com