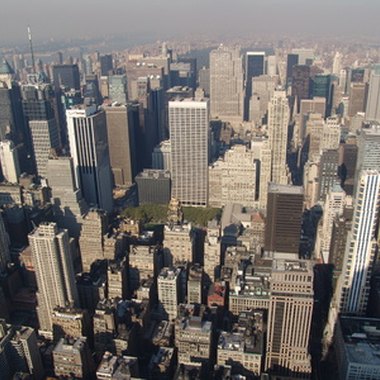 The 28-acre, Chelsea Piers Sports and Entertainment Complex is within minutes of several hotels that offer accommodations for varying tastes and budgets. The hotels range from an independently-owned boutique property featuring a country inn-style decor, to a stylish lodging choice with guest rooms fashioned after ocean liner staterooms. The hotels provide direct access to the many sports and event venues offered at the Chelsea Piers, as well as MTA New York Subway Stations, the trendy Chelsea neighborhood and vibrant nightlife in the Meatpacking District.
Hotel Gansevoort
The Hotel Gansevoort offers upscale accommodations within a half-mile of the elegant Pier Sixty and Lighthouse New York event spaces at Chelsea Piers. Nestled in the heart of the vibrant Meatpacking district, the hotel is within two blocks of the 14th Street Subway Station, which provides access to Ground Zero and Madison Square Garden. Accommodations consist of trendy guest rooms with DVD players, iPod docks, and Manhattan- or Hudson River- views. Hotel suites feature Jacuzzi tubs, fireplaces, steam showers or home theatre systems. Amenities include a rooftop plunge pool and lounge, a 5,000-square-foot spa with three infinity pools and a state-of-the-art fitness center. Hotel dining options are highlighted by Tanuki Tavern, a Japanese-style eatery serving up sushi and sashimi.
The Maritime Hotel
The Maritime Hotel lives up to its seafaring moniker by offering stylish, ocean liner-themed guest rooms. The hotel is approximately a 10-minute walk from the Golf Club at Chelsea Piers, which offers driving ranges that extend into the Hudson River and golf simulators. The property is also close to the Apple Store West 14th Street, Chelsea market and the 14th Street Subway Station, which provides access to the Upright Citizens Brigade Theatre. Hotel guest rooms are fashioned after staterooms, featuring navy blue and white decors, circular port hole-style windows that provide city views, teakwood paneling, hardwood floors and DVD players. Amenities include bike rentals, a rooftop bar, La Bogetta, a full-service Italian restaurant and fine dining at Matsuri, which serves Japanese cuisine.
GEM Hotel Chelsea
GEM Hotel-Chelsea is a modern boutique property in the heart of the fashionable Chelsea neighborhood. The hotel is within minutes of athlete sports training and volleyball- and basketball- courts at the Chelsea Piers BlueStreak facility. The property is also close to the Meatpacking District, Greenwich Village and New York University. Guest rooms feature minimalist decors, platform beds, iPod docks, rainfall showers and complimentary bottled water. Hotel amenities include complimentary Wi-Fi access and business center with Microsoft PC- and Apple Mac- stations. The hotel does not offer on-site dining; however, it is within walking distance of several restaurants and bars.
Chelsea Lodge
The Chelsea Lodge is an intimate boutique hotel that offers an alternative to standard budget accommodations. The hotel is steps away from the chic 300 New York bowling alley at Chelsea Piers, which offers 40 bowling lanes, arcade games, a trendy restaurant and bar. The 18th Street Subway Station is also nearby, providing access to Midtown Manhattan, shopping on Fifth Avenue and Central Park.The independently owned property is housed in a four-story brownstone on one of Chelsea's quiet residential streets. The property's guest rooms feature Americana-style vintage furnishings with hardwood floors, work desks, sinks and shower stalls. Guest toilets are located in the hotel's shared bathrooms.