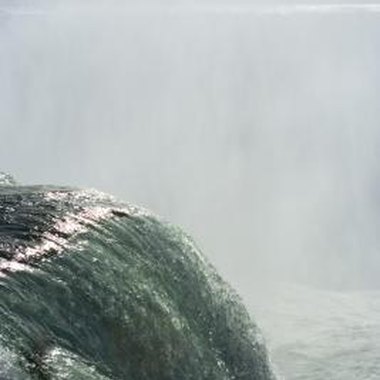 Tourists have been marveling at Niagara Falls almost since the first Europeans set eyes on the the two cascades in the 17th century. By the 18th century, tourism was this area's main industry. The tide of visitors swelled after the American Civil War when the railroads began promoting the falls and the twin towns of Niagara Falls (in Ontario and New York) as romantic, honeymoon destinations. Nowadays, families and retirees flock to the town as well. It's packed with tourist diversions, including a wax museum and gambling casinos. But the main draw remains the amazing falls and many visitors want to stay as close to them as possible.
Comfort Inn The Pointe
This economy hotel is one of two that claim to be closest to Niagara Falls. It's beside the entrance to Niagara Reservation State Park, itself 400 yards from the falls. Accommodations are basic and in need of refreshing but some rooms have views of the rapids that lead to the falls. The hotel is within walking distance of Niagara's main attractions, including the Rainbow Bridge, fashion shopping outlets, several casinos and The Maid of the Mist, one of America's oldest tourist attractions.
Days Inn at the Falls
Days Inn at the Falls is another hotel that claims to be closest to the falls by reason of being next to the entrance to the Rainbow Bridge, the main artery into Canada. This is a budget hotel with comfortable, slightly domestic decor. Free wireless Internet is available in guest rooms. The hotel has king suites with gas fireplaces and oversized whirlpool baths. A branch of a family-friendly chain restaurant is located in this hotel. Visitors who want to stay on the U.S. side of the border should not confuse the Days Inn at the Falls with Days Inn Fallsview, which is on the Canadian side.
Econo Lodge at the Falls North
Despite its clichéd image, not everyone who visits Niagara Falls is on a honeymoon. The Econo Lodge makes an effort to cater to retirees with special senior rooms. These have telephones and TV remotes with large buttons. Bathrooms have safety rails and rooms are equipped with microwaves and refrigerators for budget-conscious seniors. The hotel also offers AARP discount rates.
Red Coach Inn
The Red Coach Inn is a boutique bed and breakfast hotel that first opened in 1923. The owners claim to have modeled it after the Old Bell, England's first public house with a history going back to Saxon times. Rooms and suites have four-poster beds, upholstered furniture, yards of chintz and flowered wallpaper. All suites overlook the rapids and most have kitchens and fireplaces. The hotel has a full-service restaurant, open to the public for breakfast, lunch and dinner.
Resources
Econo Lodge at the Falls North; 5919 Niagara Falls Blvd.; Niagara Falls NY 14304; 716-283-1100
Photo Credits
Thinkstock/Comstock/Getty Images