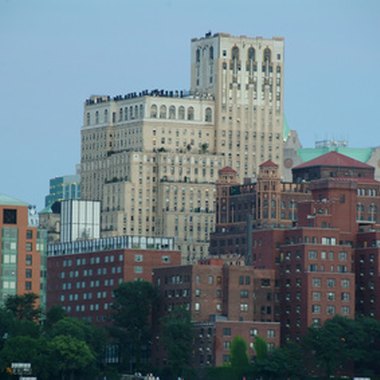 Youth hostels and low- to mid-range hotels dominate the lodging choices around Columbia University in New York City. Most are south of the campus in residential areas, and higher-end properties are farther afield. Hotels are in safe neighborhoods within easy walking distance of the subway, dining and shopping and some of Manhattan's iconic attractions.
Excelsior Hotel
The Excelsior, across the street from Central Park, overlooks the American Museum of Natural History, about 27 blocks south of Columbia. One- and two-bedroom suites and standard rooms decorated with French motifs have views of the city or the museum. Bedrooms in suites, separated from the seating area by French doors, have one or two beds. The hotel provides Ethernet bridge cards for guests traveling without a wireless card for their computer for access to the hotel's Wi-Fi network.
Hotel Alexander
Hotel Alexander, located about 15 blocks south of Columbia and one block from the subway, is a moderately priced boutique hotel offering both single-night and extended stay rates. Room options include accommodations with both private and shared baths, and a common area has Internet access. The hotel, housed in a pre-war townhouse on a residential street, is one of many brownstones. Hotel Alexander is one block from Riverside Drive and near Symphony Space and Central Park.
Morningside Inn
The Morningside Inn, located three blocks from the subway, is housed in a six-story elevator building south of Columbia University. Small, no-frills budget rooms share a bathroom and kitchen, while moderately priced deluxe rooms have private baths and a mini-fridge. The only Internet access is through a terminal in the lobby lounge area. Travelers who are accustomed to staying in hostels may find this hotel a small step up. Restaurants and shopping are within a one-block area.
Hostelling International New York
Hostelling International New York offers an extremely budget-friendly alternative for adventurous travelers. One of the largest hostels in the area, HI is located in a historic building a block from the subway. The hostel offers classic hostel dorm-style accommodations, with both coed and sex-segregated rooms. Guests staying in the dorms share bathrooms, a game room and laundry room. Bedding and private lockers for storage of luggage are provided. Visits are limited to 14 nights.
Resources
Morningside Inn; 235 W. 107 St; New York, NY 10025; 212-316-0055
Photo Credits
Brooklyn Heights as seen from East River in Manhattan image by Jorge Moro from Fotolia.com