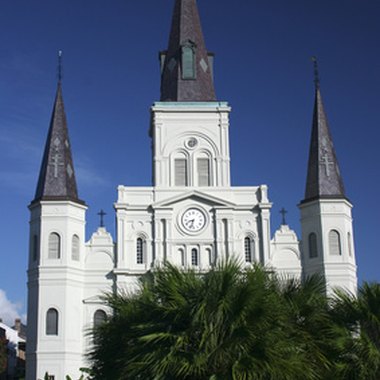 New Orleans East is a primarily residential area consisting of multiple neighborhoods including the Lower and Upper Ninth Ward, Holy Cross and Gentilly. The predominately African-American area received national attention in the wake of its almost complete devastation by Hurricane Katrina in 2005. The NASA Michoud Assembly Facility is located in New Orleans East, as is the now-closed Six Flags New Orleans theme park.
I-10 Service Road
Interstate 10 travels through New Orleans, roughly following the city's crescent shape. It provides an easy connection across the Industrial Canal, connecting downtown New Orleans to New Orleans East and the town of Chalmette. Hotels along the I-10 Service Road allow travelers with cars to quickly access all points in New Orleans and the surrounding area. A La Quinta Inn and Suites and a Best Western are located one exit apart along the I-10 Service Road in New Orleans East. Both properties offer enhanced amenities such as free parking, breakfast and wireless Internet. The Best Western is more deluxe, catering to business travelers with conference space, a business center, an on-site restaurant and upgraded guest rooms.
Bullard Avenue
Bullard Avenue is a major thoroughfare that runs through New Orleans East from Highway 90 to Lake Pontchartrain, crossing Interstate 10. Comfort Suites and Holiday Inn Express both offer properties along Bullard Avenue. Both hotels offer clean, comfortable rooms and business centers, along with free parking and wireless Internet. The Holiday Inn provides barbecue grills for guest use, while both hotels offer complimentary breakfast and small kitchenettes. Neither hotel has an on-site restaurant.
Chef Menteur Highway
Highway 90, known as Chef Menteur Highway throughout New Orleans East, is a major federal route that roughly parallels Interstate 10 from Florida to Texas. In New Orleans, Highway 90 is an excellent option for travelers hoping to avoid the I-10 traffic. With only 24 properties, Family Inns of America is a small budget hotel chain in the southern United States. The Family Inns property in New Orleans is on Chef Menteur Highway. The hotel is quite basic, but clean and safe. Some rooms have hot tubs or kitchenettes. Just down the road is the Super 8 New Orleans. The Super 8 offers conference space, high speed Internet, free continental breakfast and a small gym. All rooms have refrigerators, while a guest microwave is located in the lobby.
Special Considerations
While much of New Orleans East has been rebuilt since the destruction of Hurricane Katrina, vast swaths remain largely untouched. As of 2010, hospital facilities, grocery stores and retail businesses are not yet back to pre-Katrina levels. The hotels and immediate surroundings are generally safe, but visitors should stick to main roads and avoid wandering through residential neighborhoods. If you suffer from medical conditions, you may want to stay closer to downtown, where respected medical facilities are just moments away.