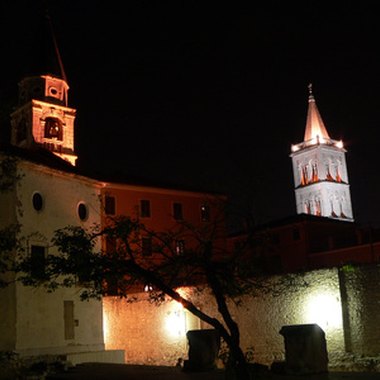 Zadar is a central Croatian port city that boasts a scenic Old Town, national parks, mountains, beautiful Adriatic Coast beaches and access to the Kornati Islands. Zadar has 20-plus hotels and the number and variety of properties have continued to grow since the war ended in the mid-1990s. You won't find many large chain properties in this relatively untouched area; most hotels are smaller and individually owned, with most located in the northwest part of town.
Hotel Vicko
Hotel Vicko is a 23-room property located at the bottom of Paklenica National Park. It's owned and operated by the Katic family, which offered fishing trips and rooms for travelers for years before it became one of the earliest hotels in Croatia in 1990. A member of the Croatian Hotel Union, the Hotel Vicko offers air-conditioned singles and doubles with ocean views and satellite TV. Also on the premises are a coffee shop, gift shop, currency exchange, free parking and a children's playroom. The hotel can arrange biking and hiking tours in the national park and other historic and natural wonders. The Vicko Villa, built in 2004, has two luxury suites and 16 rooms on the beach, where guests have access to umbrellas, chairs and a bar. Rates for both facilities are highest in August.
Hotel Bastion Zadar
Hotel Bastion is an upscale boutique hotel built atop the remains of an important 13th-century medieval fortress in the center of Zadar. The property features 28 rooms, a restaurant specializing in local fare and seafood, wellness center, and a business center. The location is among the best for visiting the beach, shops and restaurants and seeing top sights such as the historic Byzantine church of St. Donat and the unique Sea Organ, a white stone pipe organ designed by architect Nikola Basic to be "played" by the sea. Prices are among the area's highest.
Falkensteiner Club Funimation-Borik
The Falkensteiner Club Funimation in Borik near Zadar is a large modern family-friendly resort -- an unusual propety for this area. The resort is right on the beach and boasts a sizable boardwalk. The spa and fitness center features a sauna suite, an "ice fountain," indoor and outdoor pools with a water slide, beauty and massage services, a spa lounge, and supervised children's activities. The 258 rooms range from singles to mini-suites to penthouse suites, and most feature balconies. Guests have easy access to the diverse national parks and nature parks, the islands of the archipelago, Zadar's Old Town and the ancient royal city of Nin. Adventure lovers will enjoy a jeep safari or a diving excursion.
Hotel Porto Zadar
Hotel Porto, located at the entrance to Zadar and 10 miles from the airport, offers 103 rooms in single, double, triple and apartment configurations. The moderately priced rooms have air conditioning and TVs; some have high-speed Internet access and a mini-bar. The hotel has a restaurant, which serves breakfast and hot and cold supper buffets, a bar and a garden. Guests have easy access to Dalmatia Marine in Sukosan and nearby beaches. Buses connect the hotel to Zadar's city center with all its attractions and train stations.