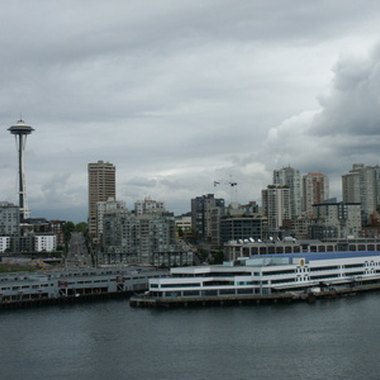 The Seattle waterfront, a mile and a half stretch along the west side of the city, is bustling with activity from early morning to the late night hours. From ferry boats docking at the piers to the streetcar chugging along beside the dozens of seafood cafes and walk-up bars serving ice cream, coffee and freshly cooked fish, visitors to this maritime city in the Pacific Northwest will find themselves in the heart of the action if they choose a hotel situated in the waterfront district.
Alaskan Way
Alaskan Way is the street that runs immediately along the Seattle waterfront overlooking Elliott Bay of the Puget Sound, lined with specialty stores and seafood restaurants, a curiosity shop, an old-fashioned arcade with a carousel and the Seattle Aquarium. Two hotels are situated on Alaskan Way, giving immediate access to the piers and walkways lining the water.
The Edgewater Hotel
The Edgewater on Alaskan Way is a luxury Seattle landmark and the only actual waterfront hotel in the city, located directly on Pier 67. Their awards and accolades are consistent and numerous, including "One of the World's Best Places to Stay" on the "Conde Naste Traveler" Gold List 2008. Whether on the patio of their Six Seven restaurant or nestled beside the river-rock fireplace in the lobby, guests can enjoy views of the Olympic Mountain range, as well as the ferries, sailboats and marine activity on Elliott Bay.
Seattle Marriott Waterfront
The Seattle Marriott Waterfront is also situated on Alaskan Way, across the street from Elliott Bay and the Seattle Cruise Terminal at Pier 66, also known as the Bell Street Pier. Merely take the crosswalk over to board your cruise line for weekly sailings to Alaska, or walk a few feet further to Pier 69 for leisure cruises to the San Juan Islands or Victoria, B.C. The Marriott encourages young guests with special Nickelodeon packages and goodies.
Pikes Place Market Area
Pikes Place Market is second only to the Space Needle as the defining downtown Seattle attraction. The market overlooks the waterfront, and is accessible by climbing quite a few stairs or driving up an inclined street to the higher level. Hotels within a few blocks of the market area are numerous and include historic landmarks, luxury penthouses, boutique inns, corporate extended stay hotels and economy chain lodging. The Inn at the Market is a favorite, located directly inside Pikes Place and overlooking the waterfront.
Historic Hotels
Within a few short blocks of the waterfront, the Mayflower Park Hotel offers a chance to stay in one of the "Historic Hotels of America" listed on the National Trust for Historic Preservation. The Mayflower Park Hotel opens into Westlake Center, which has Monorail service to Seattle Center, the Space Needle and the Experience Music Project. There is also free public bus service within the entire downtown area, providing easy access between all attractions, including the waterfront.