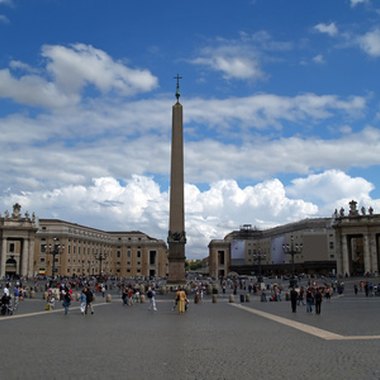 Traveler's visiting the Vatican will find only one hotel located within the walled enclave of Vatican City. Nonetheless, a variety of hotels situated outside the walls, only a short walk to the Vatican, offer a perfect location to explore the holy grounds and the vibrant city of Rome at the same time. As most of these hotels have a historic interior design they allow their guests to deeply immerse into the Vatican's rich history and tradition.
Residenza Paolo VI
Residenza Paolo VI is Vatican City's only hotel. It resides in the historic Augustinian Order building right at St. Peter's Basilica . The hotel's 29 rooms feature a warm and welcoming atmosphere and come decorated with antique furniture, oriental rugs, chandeliers, exquisite textiles and standard amenities. A bouquet of flowers, fresh fruits and a welcome cocktail greet guests upon arrival. Hotel facilities include an American breakfast buffet and a gourmet restaurant with a panoramic terrace overlooking St. Peter's Square.
Hotel Sant Anna
Hotel Sant Anna houses guests in an ancient sixteenth century palace only steps away from Vatican City. Its historic facade opens to an elegant interior with marble and terra cotta floors, antiques and selected art paintings. Guests sleep in comfortable rooms that come in pastel hues, each decorated with wall paintings, plush furniture and marble bathrooms. Some rooms feature private balconies. A canopied courtyard in Roman style offers opportunity for relaxation. The hotel serves a complimentary breakfast.
Hotel Bramante
Guests of the Hotel Bramante enjoy the spirit of an ancient 15th century building within walking distance to the Vatican. This traditional family owned hotel was renovated in 1999 and boasts a rustic yet elegant atmosphere with wooden ceiling beams, oriental rugs, antique furniture and chandeliers. The rooms combine antique charm and modern comfort and include standard amenities. Guests can enjoy a breakfast with homemade Italian specialties. Several restaurants lie within a few steps from the hotel.
Hotel Columbus
Hotel Columbus is situated in the Palazzo della Rovere, which was built in the 15th century at the Pope's request. Its antique spirit is still present in the current hotel and guests will find historic 17th-century fountains, 16th-century frescos and authentic Renaissance wall paneling and stucco. The 92 guest rooms boast a warm and welcoming atmosphere and feature a traditional design with historic elements. Room rates include a continental breakfast. The hotel offers a spa service and has a restaurant with garden terrace serving Italian gourmet cuisine and wines.
Photo Credits
the st. peter's square in vatican city image by Gary from Fotolia.com