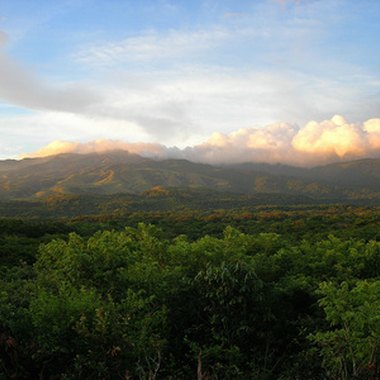 It would be great if Costa Rica's idyllic Tortuga Island offered hotels for visitors eager to explore the island's sandy beaches, waters rich in marine life and luxuriant rain forest. But the fact is, Tortuga Island is uninhabited without a hotel in sight. Instead, most visitors stay in Costa Rica's capital of San Jose or in Punta Arenas, located on the nearby Nicoya Peninsula, before booking a half-day or full-day charter tour to Tortuga Island. Once there, guests can access the island's white sands and coconut palm trees. Activities include hiking, kayaking, exploring the waters via glass-bottom boat and riding a zip-line through the rain forest canopy. Frommer's named a handful of hotels as some of the best Costa Rica picks as of 2010.
Visiting Tortuga Island
Costa Rica's seasonal calendar divides into two segments: the busy high season between December and April, and the slower rainy season -- or "green season," as it's euphemistically called -- between May and December. The high season features warmer weather and a better chance at spotting wildlife, since water sources are more scarce and animals clustered a bit closer to available supplies, according to Costa Rica Guide.com. Tortuga Island can be more crowded around this time, and it can be harder and more expensive to book tours. During the rainy season, visitors can generally expect several hours of rain each day but plenty of sunshine the rest of the time and more elbowroom to explore Tortuga Island.
San Jose
Tortuga Island-bound travelers can opt to stay in San Jose for convenient access to the charter companies and island transportation. The Costa Rica Marriott Hotel San Jose, set on a 30-acre coffee plantation, features outdoor pools, a golf driving range and on-site spa. Frommer's listed the venue as San Jose's newest hotel and one of the best luxury hotels in Costa Rica for 2010. On-site restaurants include two international cuisine venues, a casual coffeehouse and tapas bar. When booking Tortuga Island tours, ask vendors for a hotel pick-up. If that's not possible, ask the hotel to arrange transportation to the tour operator's designated meeting point. Another Frommer's pick, for best mid-range San Jose hotel, is the Hotel Grano de Oro, which features hardwood furniture, hot tubs and rooftop lounges.
Punta Arenas
Guests departing for Tortuga Island from Punta Arenas can sometimes receive a small discount from the San Jose-based fee because of a closer proximity along the Nicoya Peninsula. The Tango Mar Resort offers rooms, suites and beachfront villas. Polynesian-style resort cabanas made of wood and bamboo canvas sit on stills and include private hot tubs. In addition to touring Tortuga Island, visitors can access two private beaches, hike nature trails to a 40-foot waterfall, play tennis and golf, book a fishing charter or snorkel.
Considerations
Tortuga Island has gained popularity among travelers, and some tours can feel overcrowded, according to Frommers. Read customer reviews and ask questions about tour capacity before booking to avoid disappointment. Tours often include an early departure and bus ride before boarding vessels to cruise along the Nicoya Peninsula, so get a good night's rest and pack plenty of water and snacks for the day. Some tour operators include restaurant stops for lunch.
References