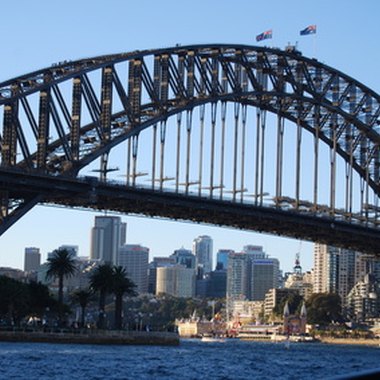 Australia's oldest city is a vibrant place filled with stunning beaches, museums, shopping, and of course, a world-famous opera house. But if you are only stopping over in Sydney or have an early morning flight, your best option is to choose from some of the many airport hotel choices. Near the Sydney airport you will find a range of hotels from moderately priced options for the discerning traveler to award-winning, upscale hotels.
Ibis Sydney Airport
The Ibis Sydney Airport sits one kilometer from the airport's domestic terminal and three kilometers from the international terminal. If you are stopping over in Sydney and won't be staying in the city, the Ibis is located five minutes from the train station making it convenient for a quick trip into the city. The 200-room hotel offers basic accommodation such as an en-suite bathroom and high-speed Internet access (for a fee). The Ibis has an on-site restaurant serving local cuisine, open from 5.30 a.m. to 10:00 p.m.
Stamford Sydney Airport Hotel
The Stamford is an upscale airport hotel providing not just a place to sleep between flights, but a place of quiet and relaxation. Features that set the hotel apart include 8mm thick windows to block out aircraft and road noise, as well as a sauna, Jacuzzi tub and rooftop pool. In 2008 and 2009 the Stamford took the World Travel Award for Australasia's Leading Airport Hotel. Rooms offer views of Botany Bay and Sydney's central business district (CDB). The Stamford offer three on-site dining options for the hungry traveler including high tea served daily from 1-5 p.m.
Holiday Inn Sydney Airport
Just over three miles away from the airport, the Holiday Inn featues private en-suite bathrooms and include amenities such as high-speed Internet access. Power converters are available for travelers caught unaware. Laundry facilities and a gym are on-site while business travelers can catch up on work at the hotel business center. The hotel offers two on-site dining options, as well as 24-hour room service, ideal if you don't want to have to dress and go down for dinner. Kids under 12 eat free at the Holiday Inn.
Garden-Lodge Sydney
The Garden-Lodge offers basic accommodation for the traveler just looking for a place to sleep the night. It is six miles from Sydney airport. The 32-room hotel offers accommodation ranging from standard to large family rooms with multiple beds, and offers modern amenities such as a LCD television and high-speed Internet. Laundry facilities are available on-site and the hotel is walking distance from the nearest railway station making it convenient for exploring Sydney's CBD.
Resources
"Australia & New Zealand on a Shoestring"; Paul Smitz; 2005