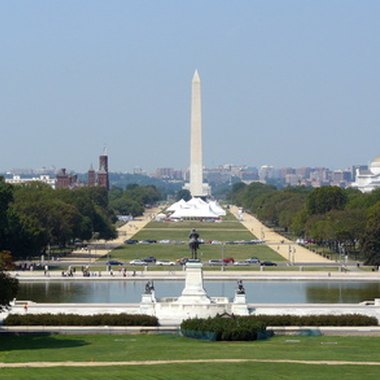 Southwest is the smallest quadrant of Washington, DC, but a lot of attractions are packed into the small area. The National Mall, Smithsonian Museums, monuments and the waterfront draw visitors. Hotels near Southwest cater to visiting families and travelers doing business in the city and all are within an easy walk of Metro stations.
Capitol Skyline Hotel
The Capitol Skyline Hotel, designed by Miami architect Morris Lapidus in the 1960s, is a short walk from the Navy Yard Metro and the Washington National's baseball stadium. Some rooms have views into the stadium. Hyper-modern décor in the lobby gives way to more subdued room décor. The hotel's huge pool is the site of frequent summertime parties that draw young adults to dance to live music. Capitol view rooms on the other side of the hotel are less noisy.
L'Enfant Plaza Hotel
Located at the L'Enfant Plaza Metro station and blocks from the Mall and Smithsonian museums, the L'Enfant Plaza Hotel offers luxury rooms with Potomac River and monument views. In-room spa services, available seven days a week, include a variety of massage therapies and the heated rooftop pool is open from Memorial Day to Labor Day. A pub serving local microbrews and a restaurant are on-site, and a nearby eateries sell subs, pizza and fresh baked bread.
Holiday Inn Washington Capitol
Holiday Inn Washington Capitol is located one block from the L'Enfant Plaza Metro stop and the Mall. The hotel has a seasonal pool and 24-hour fitness center. Guests also have privileges at nearby Gold's Gym. Kids eat free at Capitol Bistro, a full-service restaurant on-site that serves casual American fare and a breakfast buffet. Since the area is dominated by office buildings and museums, there isn't much nightlife within walking distance, but Metro stays open until 3:00 AM on Friday and Saturday night.
Residence Inn Washington Capitol
Residence Inn, one block from the Federal Center Metro station, is an all-suites hotel that provides grocery shopping service for guests. The moderately priced hotel serves a hot buffet breakfast daily and participates in the Nickelodeon Your Stay program for kids. Rooms have soundproof floor to ceiling windows with city views. Residence Inn is also in a business district, so evening dining options are limited in the immediate area. A restaurant serving deli food and an Asian buffet are within a half mile.
Photo Credits
Washington Monument image by Schwabacher from Fotolia.com