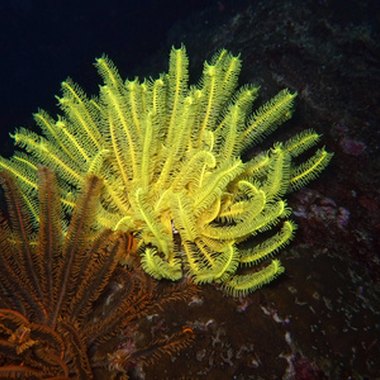 Thailand's Similan Islands National Park covers nine uninhabited islands in the Andaman Sea. The islands are known for their white coral sand beaches and world-class dive sites. The park service offers guest bungalows on one of the islands, which are the only overnight accommodations within the park. The closest town to the islands -- Khao Lak -- serves as a base for day trips. If you wish to visit the islands, it is important to know they are not accessible between May 15 and Oct. 31 each year because of hazardous weather conditions.
National Park Bungalows
Overnight accommodations in Similan Islands National Park are only found on Meang Island, which also hosts a restaurant and a visitor center. Three types of basic bungalows are available, all with one bedroom and one bath. The 20 premium bungalows in "Zone 1" are air conditioned and include a vanity table and a wardrobe. These units are raised on stilts and have furnished balconies with sea views. The bungalows in "Zone 2" are cheaper than those in "Zone 1" because they do not have air conditioning but are equipped with a fan. They are housed in a large terrace with a full-length, shaded veranda. Some of the "Zone 3" bungalows are wooden cottages on the beach shaded by trees and connected by wooden boardwalks; others are part of a terraced unit raised on stilts. Bedding is provided in all the bungalows, and additional guests are welcome for an extra charge.
Khao Lak Hotels
The town of Khao Lak in Thailand's Phang Nga province is 30 miles away from the Similan Islands and serves as the main departure point for boat trips. It is a quiet coastal resort town, and although it suffered extensive damage during the tsunami of 2004, it still presents ample lodging options for visitors. These include upscale spa resorts like Khao Lak Seaview Resort and Spa and Khao Lak Emerald Resort and Spa. International hotel chains are represented with Le Meridien Khao Lak Beach and Spa Resort and Anantara Royal Coco Palm. The Ayara Villas Khao Lak and the Tony Lodge Khao Lak are boutique-style options.
Phang Nga Hotels
If you are willing to travel a little further to reach the Similan Islands, your options are widened to include the whole province of Phang Nga and bustling Phuket, which is about 40 miles south of Khao Lak. Tourism Thailand lists more than 60 hotels in Phang Nga province on its website, ranging from the upscale Andaman Princess Resort and Spa on a private beach on the island of Koh Koh Khao to big chain hotels like the Ramada Resort, to budget guesthouses and mountain cottages.
Other Lodging
If you are prepared to camp for a night, stay in one of the tents at the national park-run campsite alongside the bungalows on Meang Island. The park service also runs a campsite on Similan Island within the park. This island also features a nature trail and a restaurant. Another interesting option, especially for those who intend to dive in Similan Island National Park, is a live-aboard dive boat.
Photo Credits
yellow and brown sea lily close-up. similan islands image by Olga Khoroshunova from Fotolia.com