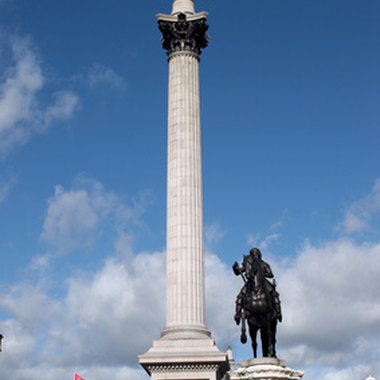 Central London's Shaftesbury Avenue is in the heart of the capital city's theater district. The street runs between louche Soho to the north with its many bars and clubs and Covent Garden to the south, featuring a cosmopolitan selection of restaurants and upmarket shops. Shaftesbury Avenue heads about a mile east from Piccadilly Circus and has quick connections with the rest of London via the four Underground stations within walking distance.
Best Western Shaftesbury Hotel
Set in a red brick Edwardian property above a parade of shops right on Shaftesbury Avenue, the Best Western Shaftesbury Hotel is a three-minute walk from Piccadilly Circus. London Underground's Piccadilly Circus station offers fast connections to attractions throughout the city. The hotel has two restaurants, the Premier, serving European dishes, and the RV Indian Cuisine Restaurant. Ronnie Scott's Jazz Club is two blocks from the hotel and the Lyric Theatre is around the corner.
Covent Garden Hotel
Just off Shaftesbury Avenue, the Covent Garden Hotel is housed in a four-story Victorian building a two-minute walk from the restaurants, bars and shops of Covent Garden, which also features daily street entertainment. The hotel's Brasserie Max serves Asian cuisine and contemporary English cooking, including dishes like Aberdeenshire rib eye steak and Gloucester old spot pork cutlets. The hotel is a few steps from the Cambridge Theatre and a two-minute walk from the Shaftesbury Theatre.
The Ritz London
Opened in 1906 in a purpose-built property with French-chateau styling, the Ritz London has been a byword for luxury ever since. Churchill, de Gaulle and Eisenhower chose the hotel as a meeting place during World War II. Set just of Shaftesbury Avenue and Piccadilly Circus, the hotel's main restaurant offers fine dining and features live music and dancing on Friday and Saturday evenings. Guests can sample the delights of a traditional English afternoon tea in the ornate splendor of the Palm Court, where gentlemen must wear a jacket and tie.
Seven Dials Hotel
At least by the standards of central London, the Seven Dials Hotel is a budget option and boasts an outstanding location. This small property with only 18 rooms is just a few yards off Shaftesbury Avenue and a short walk from the Covent Garden London Underground station. Facilities include free wireless Internet and room rates include a full English breakfast. Dining options near the hotel include the family-run DaMario's Italian Restaurant, the Punjab Indian Restaurant and the canteen-style Belgo, specializing in mussels and fries with Belgian ales.