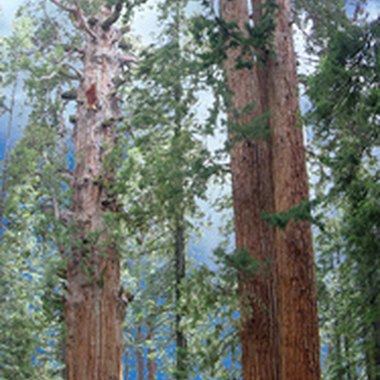 Northern California's mammoth Sequoia and Kings Canyon national parks are home to cascading waterfalls, centuries-old trees and a diverse lodging community. Because the adjacent parks cover such a large area, visitors should select a hotel based on what area of the parks they want to explore. Price and service vary by accommodation; visitors can choose from low-budget motels to high-end resorts.
Hotels
The AAA three-diamond Wuksachi Lodge, billed as "an upscale mountain resort," is open year-round. The hotel, set in Sequoia National Park amid hiking and skiing trails, offers rooms with stone fireplaces, wood furnishings and panoramic views of the High Sierras. Just a fourth of a mile from the Sequoia park entrance, the Buckeye Tree Lodge has a swimming pool and serves a complimentary breakfast of fresh fruit, pastries, muffins and juice. Guests looking for a deal can stay at the Courthouse Motel, which offers discounts to AAA and Pacific Crest Trail members, as well as senior citizens. Those more comfortable staying with a chain they recognize can book a room at the nearby Visalia Marriott at the Convention Center.
Small Hotels
Naturalists may enjoy the 36-room John Muir Lodge in Kings Canyon National Park, within walking distance of both Grant Grove and the General Grant Tree. The hotel's lobby pays tribute to its namesake and surroundings, with paintings and photographs of the surrounding area. The 21-room Cedar Grove Lodge lies in a mile-deep canyon inside Kings Canyon National Park. Guests can choose rooms with or without a patio. The 36-room Sierra Lodge offer rooms with kitchenettes and has an outdoor Jacuzzi and barbecue area. The 11-room Stony Creek Lodge is constructed of local river rock and timber. The lodge offers al-fresco dining and also has a gas station.
Cabins
Located in Kings Canyon's Grant Grove Village, the eponymous Grant Grove Cabins offer duplex and single cabins with bath, rustic camp cabins and tent cabins. Their Mission-style decor reflects the history of the cabins. At Sequoia High Sierra Camp, guests can enjoy their natural surroundings 24 hours a day; the camp has 30 tented cabins, an outdoor dining area and a shared bath house with flush toilets and hot showers. Three meals are included in the camp's daily rates.
Resorts
Sports enthusiasts can take advantage of Montecito Sequoia Lodge's private lake and cross-country trail system in the Sequoia National Forest. The "family camp" has winter packages that include lodging, meals, equipment rentals and lessons. Silver City Mountain Resort in Sequoia National Park entertains guests with painting lessons, ranger-led campfires and horseback riding. On Sundays, the resort hosts a worship service.
Bed and Breakfasts
The Ben Maddox House Bed & Breakfast in nearby Visalia was built in 1876. The hotel's acre of grounds includes century-old trees, rose gardens and herb gardens. Nestled on 20 acres of citrus orchards, the Plantation Bed & Breakfast is 16 miles outside Sequoia National Park in Lemon Cove. Serving gourmet breakfasts and featuring antique furnishings, the hotel discourages guests from bringing children under the age of 14. In Independence, Winnedumah Hotel Bed & Breakfast serves up tri-tip and chicken barbecue for dinner in the garden. The small inn offers holiday packages, including a Valentine's Day Sweetheart Special.
Photo Credits
World's largest tree image by Robert Erickson from Fotolia.com