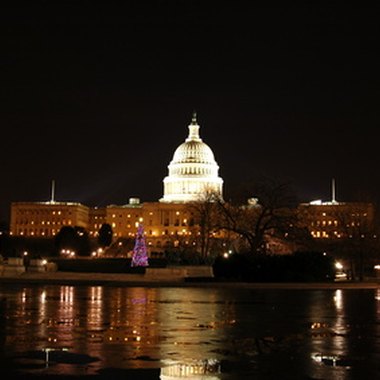 Robert F. Kennedy Memorial Stadium, which opened in 1961 as the District of Columbia Stadium, is the home field of D.C. United, the city's Major League Soccer team. In its present configuration, the stadium seats more than 45,000 and was renamed in honor of Kennedy in 1969, less than a year after the senator was assassinated in Los Angeles. Visitors who plan to attend an event at the stadium can choose from several hotels within a three-mile radius.
Capitol Hill Suites
A good choice for family groups or visitors planning an extended stay, this all-suites hotel lies only 1.9 miles from RFK Stadium and within walking distance of the U.S. Capitol. Its 152 suites are 50 percent larger than the average hotel room, and all have some type of kitchen facilities, ranging from kitchenettes to full kitchens. In addition to being close to all the attractions of Capitol Hill, including the Library of Congress and Supreme Court, the hotel is only a block from a Metro station where you can catch a train to almost any destination in the Washington metropolitan area. If you're traveling with a pet, request a pet-friendly suite for an additional fee of $75 per stay, as of October 2010.
Hotel George
Built in 1929, this historic hotel, part of the Kimpton chain, sits in the heart of Washington's Capitol Hill neighborhood, only 2.1 miles from RFK Stadium. Although the George has a rich and colorful history, its decor and amenities are unmistakably 21st-century. This is an ideal destination for families with children or pet owners. Upon check-in, a young guest receives a welcome gift, a booklet detailing child-friendly activities in the area and the loan of an animal-print bathrobe for his stay. The hotel not only welcomes pets but offers a special "My Dog Gets Presidential Treatment" package that includes food, water, sleeping mat and chew toy; dog sitting and walking services; a day at a "doggy style" spa; and a guide to pet-friendly resources throughout the metropolitan area.
Liaison Capitol Hill
This trendy boutique hotel, part of the Affinia chain, sports a sleekly contemporary look in its guest rooms and common areas and lies only 2.1 miles from RFK Stadium. Guests can easily walk to all the many attractions in the Capitol Hill area but may choose instead to relax and enjoy the Liaison's seasonal rooftop pool, which offers stunning views of the Capitol and the National Mall. Conceived and designed by Art Smith, Oprah Winfrey's personal chef, the hotel's Art and Soul Restaurant serves regional cuisine with a Southern spin, reflecting Smith's roots in the South.
Phoenix Park Hotel
Just over two miles from RFK Stadium, the Phoenix Park Hotel, named for a park in Dublin and previously known as the Commodore, offers a bit of Irish charm and easy access to both the U.S. Capitol and Union Station. Nowhere in the hotel is its Celtic charm more apparent than in the Dubliner Restaurant and Pub, which serves up typical Irish fare and entertainment. Although its lobby and other common areas are designed to recreate the look and feel of an 18th-century European country estate, the hotel provides guests with all the modern amenities that today's travelers demand.
Photo Credits
US Capitol Building image by dwight9592 from Fotolia.com