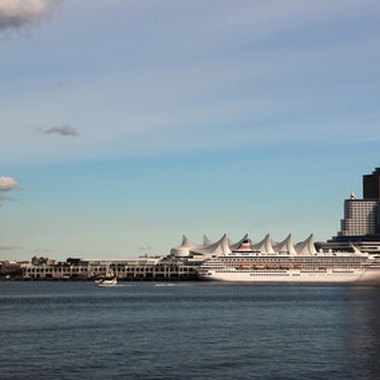 The cruise terminals in Vancouver, British Columbia, are flooded from spring through summer by international tourists. Port Metro Vancouver operates two terminals used for cruises to Alaska that pass through the Burrard Inlet. Tourists taking cruises that depart from Vancouver often spend time prior to departure at visiting downtown Vancouver restaurants and attractions. The terminals at Canada Place and Ballantyne Pier are located within minutes of tourist destinations like Stanley Park.
All-Suite Hotels
All-suite hotels near Port Metro Vancouver provide ample space for families and couples. Lord Stanley Suites on the Park is located about seven minutes northwest of the port. This property accommodates long-term travelers by equipping suites with dining rooms and washing machines. Guests select suites with views of Stanley Park, Burrard Inlet and downtown Vancouver. The Times Square Suites within five minutes of the port houses a barber shop, florist and bike rental counter on the first floor. Patrons select from a menu of Italian dishes and wines in the upscale setting of Tavola restaurant adjacent to the lobby.
Bed and Breakfasts
Downtown Vancouver offers bed and breakfast accommodations that welcome guests with cozy rooms. Barclay House Bed and Breakfast is in a renovated yellow house just five minutes west of the port. Guest rooms are decorated with photos and decor related to Canada's Pacific coast, and the parlor offers guests leather sofas and magazines. Nelson House Bed and Breakfast, five minutes from the port, maintains five themed rooms based on the innkeeper's extensive travels. One example is the Bombay room, which features drapes, furniture and decorations reminiscent of India.
Historic Hotels
Tourists bridge Vancouver's past and present at historic hotels near the port. The Moda Hotel Vancouver maintains its original exterior features and lobby decor dating back to 1908. This property located five minutes south of the port features upscale dining at Cibo Trattoria and drinks at Uva Wine Bar. Guests staying at the Victorian Inn are only two minutes south of Port Metro Vancouver. This renovated 1898 home stays true to its past with a fireplace and Victorian chandelier in the lobby. Travelers interested in touring downtown Vancouver arrange vintage bike rentals through the front desk.
Luxury Hotels
Luxury hotels like the Shangri-La Hotel maintain upscale rooms and facilities for out-of-towners. This property, located three minutes west of the port, contains houses the restaurant, MARKET by Jean-Georges, which turns local ingredients into plentiful portions. Each guest room at the Shangri-La Hotel is bathed in light thanks to oversized windows. Travelers staying at the Four Seasons Hotel Vancouver head three minutes north to reach the cruise terminal. Guest accommodations at this hotel combine earthy tones with upscale features like marble bathroom floors. The YEW Restaurant and Bar in the hotel lobby serves paninis, sushi and desserts in a relaxed setting.
Photo Credits
downtown vancouver image by Lijuan Guo from Fotolia.com