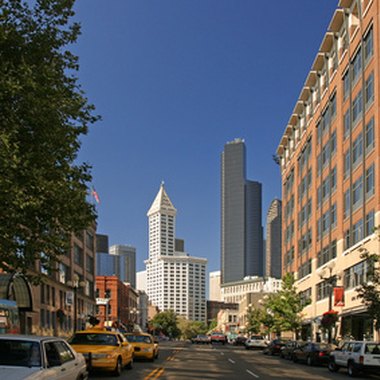 Pike Place Market is a shopping center in Seattle with clothing, craft, tattoo, fish, flower, book, jewelry and craft shops. It also features an improv theater and a children's garden. Seattle, a city often associated with precipitation and coffee, features professional basketball, football and basketball facilities; a park on Elliott Bay; art museums and galleries; an aquarium and a famous space needle that are near downtown area hotels. Luxury downtown hotels near the market offer amenities such as guest rooms with fireplaces or in-house spa treatments.
Hotel 1000
The Hotel 1000 sits about 0.4 miles from the Pike Place Market. The hotel provides a shuttle service that takes guests to places within a one-mile radius. A spa offers couples massage packages and special massages for pregnant women. The hotel features a virtual reality golf game with private lessons. The 24-hour fitness center offers public saunas. An on-site restaurant and lounge serves French toast with pecans, chicken and brie sandwiches and scallops with squash and kale. The hotel offers packages with tickets to the Space Needle, cocktails from the on-site bar, a bottle of wine or a complimentary breakfast for two people at the hotel's restaurant. Guest rooms feature bathrooms with windows overlooking Seattle. Guest rooms come with media spaces with plasma TVs for watching on-demand movies.
Alexis Hotel Seattle
The Alexis Hotel Seattle sits about 0.4 miles from the market. The hotel is known for its specialty suites, many of which display artwork from local artists or photographs of Seattle's art or music scenes. The hotel provides a steam room and a spa for relaxation. Every afternoon, the hotel has a wine social hour. The hotel offers a turndown service, where staff members supply chocolates and information on daily weather. The hotel provides dog beds, food and water bowls and treats to guests on request. The facility has jewelry and perfume stores and a hair salon. The hotel sells bathrobes designed for children. In guest rooms and suites, you can order Nintendo games. Some suites feature jetted bathtubs and sectional couches. The hotel will provide you with a playpen or night light upon request. Family packages include tickets to Seattle Mariners games or the Seattle Aquarium.
Inn at Harbor Steps
Inn at Harbor Steps is located about a half mile from the market. At check-in, the hotel provides guests with free homemade chocolate chip, cranberry white chocolate or oatmeal cookies. The hotel also offers complimentary tea, coffee and hors d'oeuvres daily. Every morning, hotel staff serves a breakfast buffet with quiche, scrambled eggs and freshly baked muffins. The hotel's gym is equipped with a basketball court and a swimming pool for active guests. A library features CDs, DVDs and books, including family-friendly selections. You can get toiletry products such as toothbrushes, toothpaste, aspirin, combs or shaving cream from the front desk. Some guest rooms have patios with views of the Harbor Steps and living rooms with fireplaces. The hotel's packages include gift certificates to local restaurants, tickets to the Seattle Art Museum or a free hotel teddy bear.
Four Seasons Hotel Seattle
The Four Seasons Hotel Seattle sits about a half mile from the market. The hotel's restaurant, which features views of Elliott Bay, offers foods such as noodle bowls, steak burgers, lamb shank, omelets and Belgian waffles. The hotel provides families with milk and cookies, children's bathrobes and bathroom toys. Families can request strollers, diapers, playpens and toys. The 24-hour fitness center offers in-house trainers, a hot tub, a steam room and free fruit. An outdoor fireplace is located near the pool. The hotel's spa features private treatment rooms for couples. Pampered guests will also find bathrobes and slippers inside their rooms. Some suites have living room areas with multiple sofas, desks with leather chairs and dining room tables with chairs for up to 10 people.
Photo Credits
downtown seattle image by Melissa Schalke from Fotolia.com