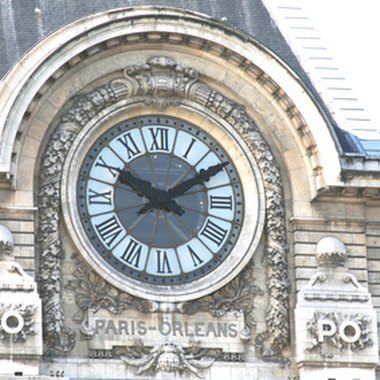 If fate should offer you reincarnation as a train station, consider coming back as the Gare de l'Est. More a monument than a simple transportation hub, Paris' eastern station -- designed by architect Francois Duquesney in the Romanesque Revival style -- boasts high, curved ceilings of leaded glass, a huge, half-rosetta window and numerous sculptures. The area around the station is a treasure trove of hotels, with a few budget gems for folks in transit.
Hôtel de la Cité Rougemont
Some hotels take center stage on your trip, captivating you with charm or else ruining your experience. The Hôtel de la Cité Rougemont won't do either. This is a "routard" (backpacker) hotel par excellence, often hosting more French travelers than American. It offers 33 good-sized rooms with baths, comfy beds and an unbeatable location between the Gare de Nord, Gare de l'Est and Gare St. Lazare. Only in a city as cosmopolitan as Paris would such a convenient hotel also be a hop, skip and a jump from the Opera House. No elevator between ground floor and first is a problem for some. But the staff is friendly and the prices are low.
All Seasons Paris Gare de l'Est TGV
If free WiFi and continental "petite dejeuner" (breakfast) beat out spacious rooms in your book, check out the All Seasons Paris Gare de l'Est TGV. Even if it is pouring rain when you arrive at the Gare de l'Est, you can probably get to the All Seasons without getting too wet - -it is right across the street from the station. This convenience means a slightly seedy neighborhood, but the buzz-in entry system and 24-hour security presence at the hotel create a feeling of complete security. Air conditioning works well, which is not always the case in Paris. Entrance to first floor is a walk-up that can be awkward with baggage.
A la Villa Saint-Martin
Location, location, location. You want a train-station hotel that isn't in the seedy zone. A la Villa Saint-Martin costs a bit more but the location fits the bill: It is a few minutes' walk to the Gare de l'Est but set in a quintessential Parisian neighborhood -- boulangeries, pharmacies, cafes and a charming canal. It is off-the-tourist-track Paris, so don't expect perfectly bilingual staff. It offers small, immaculate rooms and a huge breakfast (not included in room price.) No air-conditioning can be a downside depending on your travel season.
Hôtel Soft
The Hôtel Soft is a three-star priced like a two-star, close to the Gare de l'Est and near the Canal Saint Martin. The authentic Paris neighborhood includes art galleries, cafes, local restaurants and even a Paris-bikes-for-rent stand. Small rooms, small showers, but everything is classic, without gee-gaws or kitsch. Better-than-average breakfast is included in the low price. Try the hotel website before you book elsewhere -- they offer good deals.
Photo Credits
paris orleans station clock image by ennavanduinen from Fotolia.com