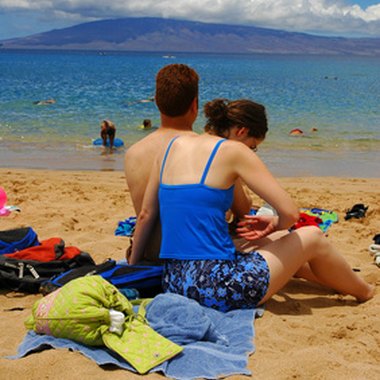 The calm, crystal-clear blue waters of south Maui are the ideal place to explore such activities as snorkeling, scuba diving and whale watching, many of which you can do through the Ocean Activities Center. The center is based in Kihei, the hub of tourist activity in south Maui, but for those wanting to stay in south Maui, there are few hotels actually within Kihei (most Kihei accommodation are condominiums). You will find plenty more hotel choices in nearby Wailea.
what is a fallback
Maui Coast Hotel
The Maui Coast Hotel is in the center of Kihei, walking distance from Kamaole Beach Park I and close to numerous shops and restaurants. It is one of the few hotel choices in the area. While it lacks some of the grandeur of the resorts that line nearby Wailea, it is the closest resort to the Ocean Activities Center, making it perfect for someone more concerned with fun activities on the water than luxury amenities. That isn't to say that the resort lacks luxury accommodations: In addition to standard hotel rooms, the Maui Coast Hotel offers suites featuring jetted bathtubs, as well as outdoor hot tubs, a swimming pool, and access to tennis courts and two fitness centers.
Wailea Beach Marriott Resort & Spa
A couple of miles farther down the Maui coastline is Wailea, an area filled with opulent houses, luxurious resorts and some of the best beaches in south Maui. The Wailea Marriott is one of three hotels in Wailea to receive the coveted AAA Four Diamond Award. The massive resort features more than 500 rooms and five swimming pools. It also has an on-site spa, the Mandara Spa, where you can enjoy signature services such as a Elemis seaweed massage while enjoying expansive views of the offshore island, Molokini Crater. The hotel houses four eating option, if you don't feel like the drive into Kihei, and is one of the few places in south Maui where you can enjoy a luau.
Grand Wailea Resort & Spa
The Grand Wailer Resort & Spa sits on 40 acres and is one of the largest resorts on the island. The hotel has nine swimming pools, all inter-connected and featuring water slides and rope swings that make this luxurious resort (also an AAA Four Diamond Winner) more like a tropical theme park than a hotel. The hotel is an ideal choice for families, since it also offers Camp Grande, which offers plenty of fun activities for children from 5 to 12. To add to the fun, the hotel fronts Wailea Beach, which according to Andrew Doughty, author of "Maui Revealed," has been ranked the best beach in America. The resort also offers six dining options, all with exceptional ocean views.
Makena Beach & Golf Resort
Just south of Wailea and only 4 miles from Kihei is the Makena Beach & Golf Resort. It is the last resort you will find on your drive along the south Maui coastline. The Makena Beach & Golf Resort offers less of the opulence of the nearby Wailea resorts, and instead is geared toward the visitor looking for a quiet vacation in south Maui. It is close enough to shops and restaurants to be convenient but not so close that it feels crowded. But just because the resort is subdued does not mean that there is less to do. This 310-room hotel features a swimming pool, outdoor hot tubs, tennis courts and an on-site championship golf course. The resort also offers six on-site dining options including a Sunday night luau and a champagne brunch that is considered by locals to be one of the best on the island.
References
"Maui Revealed: The Ultimate Guidebook"; Andrew Doughty; 2007