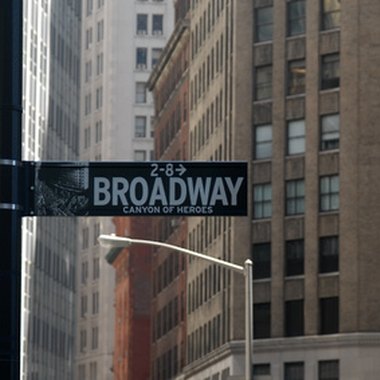 The Best Buy Theater (formerly the Nokia Theater) on Broadway in New York City hosts live entertainment, concerts and special events. Its central location at the heart of Times Square means visitors should have no problem finding a nearby hotel. Keep in mind this popular tourist area draws large crowds, making "The City That Never Sleeps" moniker a reality. Additionally, expect to pay more; after all, you'll be staying at "The Crossroads of the World."
The Westin New York at Times Square
Located down the street from the former Nokia Theater, The Westin New York at Times Square puts guests at the corner of 8th Avenue and 43rd Street. Modern designs and calming earth tones connect to create a soothing environment in each of the hotel's 863 guest rooms and suites. Plush bathrobes, flat-screen televisions and iPod docking stations are just some of the in-room features. Special WORKOUT guest rooms come with in-room exercise equipment while the spa-inspired rooms feature a Kinjoy Shiatsu massage chair and relaxing CDs. The hotel has a steakhouse and cocktail bar as well a fitness center and spa.
New York Marriott Marquis
Found on Broadway across from the Marquis Theater, the New York Marriott Marquis offers modestly designed guest rooms within steps of the former Nokia Theater. Each room has a spacious marble bathroom with views of Times Square and Manhattan. Standard in-room amenities include wireless Internet access, soundproof floor-to-ceiling windows, featherbeds and duvets. The hotel allows pets, but guests must pay a $250 nonrefundable sanitation fee. Guests can enjoy meals at the hotel's four restaurants, which serve sushi, American, Japanese and eclectic dishes. This hotel is listed as a Marriott Rewards category 8 establishment.
Renaissance New York Times Square Hotel
The Renaissance New York Times Square Hotel has a vibrant, cutting-edge design with contemporary art decorations in the hotel lobby and living room lounge area. Its lobby lounge provides a complimentary breakfast and the on-site restaurant serves American cuisine and cocktails. Guest rooms have the same chic, urban flair characteristic of the rest of the hotel and come with basic amenities such as Internet access and flat-screen televisions. This is a Marriott Rewards category 8 hotel. The former Nokia Theater lies three blocks south of the hotel.
Night
Night, a self-described "dramatically imagined Manhattan Boutique Hotel," offers an urban gothic surrounding. From the lobby to the guest rooms, a black and white color scheme dominates the entire property. Bose CD Wave System, flat-screen televisions, Wi-Fi and Bee Kind Amenities complement each room's simple design. The restaurant serves simple, gourmet dishes and drinks in a minimalist surrounding. Guests can enjoy a complimentary continental breakfast in the morning. Personal shopping services are available. The former Nokia Theater is reachable by foot.
References
Photo Credits
broadway avenue, manhattan, nyc image by Albo from Fotolia.com