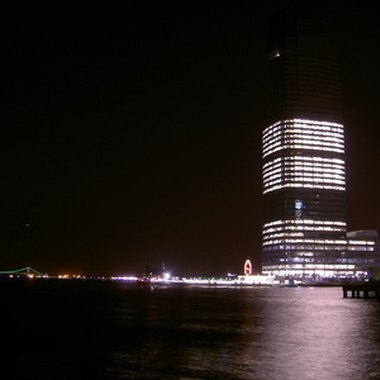 Newport Centre, a shopping mall on Jersey City's Hudson Waterfront, features clothing, accessory, home furnishings and jewelry stores. Hotels in the city's Exchange Place and Newport districts sit within a short drive or walk of the mall. They are also near other Jersey City and New York City attractions, such as an African American museum, a Shakespeare theater, Times Square, Greenwich Village, a historic 19th-century mansion and the Empire State Building. Hotels near Newport Centre offer amenities for adults and children such as indoor swimming pools, lounges and jogging tracks.
Courtyard Jersey City Newport
The Courtyard Jersey City Newport is across the street from the Newport Centre. Guests can work out any time at a 24-hour fitness center. An on-site bistro-style restaurant offers breakfast options that include egg and meat sandwiches and parfaits. Dinner options include sandwiches and soups. The hotel offers an interactive board with information on local news, weather and points of interest. Some suites have hot tubs with space for up to two people. For an extra charge, you can get bottled water delivered to your room. The Courtyard offers packages that include breakfast for between two and four family members at the hotel's restaurant.
Doubletree Hotel Jersey City
The Doubletree Hotel Jersey City is also located across from the mall. From nearby Liberty State Park, guests can take a ferry to the Statue of Liberty or Ellis Island. As soon as you check into the hotel, staff members offer you chocolate chip cookies. For traveling guests, the hotel has a car rental service. An on-site bar and grill restaurant offers an a la carte breakfast with bacon and eggs and pancakes and serves dinners with steak, salmon and hamburgers. A jogging track features views of the Hudson River. Some suites offer views of the New York City skyline. Hotel rooms offer Neutrogena soaps and shampoos, and some suites have a stocked wet bar. Packages include items such as a daily breakfast buffet at the hotel's restaurant, an in-room breakfast, a bottle of wine or a subway pass.
Westin Jersey City Newport
The Westin Jersey City Newport sits about a half mile from the mall. A shuttle service will take you to destinations within Jersey City. After you check in, bellmen and porters will help you take your bags to your room. Active guests can take advantage of guides to jogging trails within a five-mile radius of the hotel. The hotel also offers a limousine rental service. An on-site lounge serves breakfasts with items such as ham and eggs; an American-style restaurant features sushi, burgers, turkey sandwiches and pizza. The gift shop has New York City coffee mugs, T-shirts and postcards. Guestrooms feature beds with throw pillows and down comforters. Specialty guestrooms provide treadmills and workout DVDs. Through room service, you can order items such as diapers, bottle warmers, deodorant, toothbrushes, toothpaste and sewing kits. Packages for couples include a bottle of champagne and a free breakfast for two at the hotel's lounge; a family package includes one free on-demand movie and a refreshment center credit.
Candlewood Suites Jersey City
Candlewood Suites Jersey City sits about 0.6 miles from the mall. The hotel features a car rental service for those who are visiting the Jersey City area, as well as a same-day dry cleaning service. A 24-hour market stocks items such as macaroni and cheese, frozen dinners, milk, fruit, bagels, ice cream and soup. The hotel is within walking distance of restaurants such as the Saigon Café, It's Greek to Me and Pino's Pizza. Most suites have separate bedroom and living room areas. Some guestrooms and suites have wooden tables for working or eating or bar areas with two stools. Kitchens in suites have a refrigerator and dishwasher.
Photo Credits
night view of jersey city image by RRS from Fotolia.com