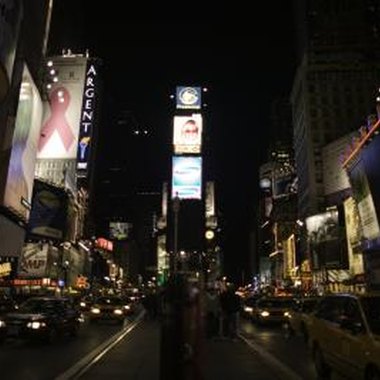 Busby Berkeley's 1933 film "42nd Street" put Times Square on the map. Decades passed, but people continued to visit this vibrant neighborhood, where the "underworld meets the elite," and dancing feet move non-stop through a city that never sleeps. Staying at one of the many Times Square hotels puts you in the center of the action.
Boutique Hotels
The Muse, located on West 46th Street is a high-tech and ultra-modern hotel, whose designers took a whimsical and irreverent approach to hotel design. Prints and statues of Thalia, the muse of comedy, decorate the rooms, and a dual-sided fireplace sits in the lobby's center. Rooms have zebra print bathrobes, and the special spa suites have a Jacuzzi built for two. In-room spa services are available. The Muse is also pet-friendly, with fewer restrictions than other pet-friendly hotels. There's no pet -fee, no weight restrictions, and no limit to the number of pets allowed. Pets may stay in the room when their owners go out. The hotel offers a pet goody bag, and bowls for food and water. Night Hotel, located on West 45th Street, is another New York City Boutique hotel. Hotelier and film producer Vikram Chatwal brings a sense of drama to this hotel, characterized by its bold, black and white color patterns. Chatwal's designers combine ultra modern fixtures with a Gothic motif, and somehow get away with it.
Channeling Dorothy Parker
Most aspiring and published writers and literary aficionados have heard of the legendary Round Table, located in the Algonquin Hotel. In 1919, a group of writers journalists and critics set up a daily meeting spot at the Algonquin Hotel. Dorothy Parker, Robert Benchley, George S. Kaufman and Alexander Woollcott were some of the group's members. Algonquin owner Frank Case treated the writers to free celery and popovers, their own table, and their own private waiter. Years later, Alan Jay Lerner and Frederick Loewe would write My Fair Lady while inhabiting Lerner's suite at the Algonquin, and William Faulkner would write his 1950 Nobel Prize speech in his Algonquin Suite. The Round Table still draws publishing industry executives, authors and journalists. Marriott purchased the Algonquin in 2010, as part of their new "Autograph" collection. Guests can now earn Marriott Reward at this hotel. Despite the 1902 that houses the Algonquin, its rooms have a modern decor and modern amenities such as Wi-Fi, speaker phones and data ports. The hotel is located on 44th Street between 5th and 6th Avenue.
Casablanca Meets Times Square
The movie "Casablanca" inspired the Casablanca Hotel, located on West 43rd Street. Ceiling fans, mosaic tiles and small bistro tables embellish the lobby. Management pays special attention to the fundamental requirements of their guests. Rates include a complimentary buffet breakfast in Ricks Cafe, cookies, fruit, coffee and tea throughout the day, wine, cheeses, and hors d'oeuvres served in the early evening, Internet access and free guest passes to the nearby New York Sports Club. They even allow you to bring a guest who is not staying at the hotel to join you for breakfast. Guest rooms have high-end bath products, which contain made with olive oil and Sicilian red orange extracts.
Quintessentially Times Square
The Paramount Hotel's art nouveau lobby design, transports you back to the early twentieth century. Its asymmetrical lobby staircase creates a dramatic focal point. Rooms, in contrast, are surprisingly modern, featuring platform beds, wide screen TVs and red and white fabrics. Its 46th Street location places it in the heart of the Times Square Theater District, and the hotel has special packages appropriate to its neighborhood. The Broadway theater package includes two nights accommodations, two Broadway show tickets and priority seating at a local restaurant. Those visiting on new Years can enjoy a special package that includes reserved seating in the hotel bar, a bottle of champagne and rep and post ball drop appetizers. The bold, geometric lines typical of art deco design distinguish the Belvedere Hotel, built in the 1920s and located on West 48th Street. Its art deco theme does not end in the lobby. Rooms and the business center have deco lamps and art deco furnishings. The Belvedere Hotel has a full-service fitness center and late-night room service. Guests can book Broadway show and new York City sightseeing packages.
Photo Credits
Photodisc/Photodisc/Getty Images