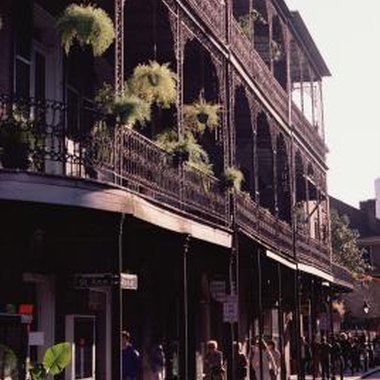 The Ernest N. Morial Convention Center in downtown New Orleans attracts schools and businesses to the shores of Lake Pontchartrain. This venue handles events throughout the year ranging from high school proms to annual shareholder meetings. Visitors to the Morial Convention Center are situated close to attractions in the French Quarter and the Central Business District. Convention-goers can take advantage of the city's competitive hotel industry by searching neighborhoods surrounding the convention center.
Central Business District
Hotels in the Central Business District are less than five minutes from the Ernest Morial Convention Center. Guest rooms at the Hotel New Orleans combine luxurious touches like marble counters, wooden dressers and framed art. This property houses the Atrium Restaurant, a casual restaurant serving Southern dishes in the hotel courtyard. The Wyndham Riverfront New Orleans welcomes guests with a large fountain and garden in front of the main entrance. Travelers select from accommodations ranging from quaint corner rooms to lofts with large living rooms.
French Quarter
Visitors can balance nightlife with business at the convention center by staying at French Quarter hotels. The Hotel St. Marie takes travelers into the past with 19th-century paintings and reproduction furniture in the lobby. Guests returning from French Quarter tours can relax on their balconies or settle down at the courtyard pool. The Inn on Bourbon accommodates travelers around the world with services provided in French, Spanish and English. Cafe de l'Opera, on the first floor, preserves Southern traditions with a hearty breakfast buffet and afternoon tea.
Lower Garden District
The Lower Garden District hosts myriad accommodations only five minutes south of the convention center. The Green House Inn presents nine rooms themed after regional flowers like the hibiscus and the orchid. Guests can unwind with Southern literary classics in the library or laps around the outdoor pool. The Avenue Garden Hotel was built in 1897 and features room amenities like busts and brass bath fixtures reminiscent of the Victorian Era. Patrons can take advantage of discounted tickets for historical tours of New Orleans with the innkeeper's help.
Faubourg Marigny
Many tourists head north of the congested streets of downtown New Orleans to stay at hotels in the Faubourg Marigny neighborhood. Guests at the Clairborne Mansion pass through vaulted hallways with framed images of New Orleans to reach their rooms. This property features a kitchen with stainless steel appliances and a breakfast bar available to all guests. The Historic Creole Inn adorns each room with statuettes and paintings dating back to the late 19th century. Travelers can relax on overstuffed chairs while reading books and magazines in the first-floor parlor.
Photo Credits
Jupiterimages/Photos.com/Getty Images