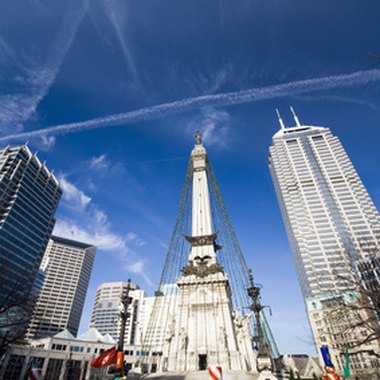 Visitors to Indianapolis who plan to attend a concert or other event at the Murat Theatre will find a number of hotels within a mile of the theater. Housed in a mosque-like structure known today as Old National Centre but formerly called Murat Shrine, the theater is one of the city's most popular entertainment venues. Hotels in the area tend toward the high end in both amenities and rates.
Canterbury Hotel
Housed in a building that has been declared a historic landmark, this 99-room boutique hotel, less than a mile from the theater, has the feel of an intimate European hotel and is a favorite of celebrities passing through Indianapolis, according to Frommer's. Guestrooms and suites are spacious and feature Chippendale four-poster beds, armoires, mini-bars and wireless Internet, which is also available in all hotel common areas. Other hotel services and facilities include business and fitness centers and concierge service. Turner's Restaurant serves breakfast and dinner seven days a week and lunch Monday through Saturday. AAA has bestowed Four Diamond ratings on both the hotel and its restaurant.
Conrad Indianapolis
This 23-story, 241-unit hotel lies about a mile from the Murat Theatre and "lends a much-needed touch of swank to the downtown scene," according to Frommer's. A sky-bridge links the Conrad to the Indiana Convention Center, making the hotel a popular destination for conventioneers. All rooms and suites feature mini-bars, spacious desk/work areas and wireless Internet. Guests who'd like to stay active can exercise in the fitness center or swim laps in the hotel's indoor heated swimming pool. The on-site spa (temporarily closed as of November 2010) offers a wide array of treatments. The Capital Grille serves breakfast, lunch and dinner in a formal setting.
Hilton Garden Inn Indianapolis Downtown
Overlooking Monument Circle in the heart of downtown Indianapolis, this 16-story, 180-unit hotel lies only a half-mile from the Murat Theatre. Housed in a historic building that dates back to 1914, the hotel has lovingly preserved some of the structure's original marble and ironwork decor, according to Forbes Travel Guide. A 10-foot fireplace dominates the Hilton Garden Inn's two-story lobby area. All guestrooms and suites feature microwaves, compact refrigerators and high-speed Internet. Recreational facilities include a fitness center and swimming pool. The hotel's American Grill serves breakfast, lunch and dinner seven days a week, while the Pavilion Pantry, open 24 hours a day, can supply ready-made sandwiches, salads and microwaveable items for guests who are on the go.
Hyatt Regency Indianapolis
Linked by a skywalk to the Circle Center Mall and the Indiana Convention Center, this high-rise, 497-unit hotel sits about a mile from the Murat Theatre and just across the street from the Indiana State Capitol. Built around a soaring interior atrium, the hotel offers guests a wide array of services and facilities, including business and fitness centers, an indoor lap pool, wet and dry saunas and massage treatments. All rooms and suites feature compact refrigerators, large desk/work areas and high-speed Internet (for an additional fee). On-site dining options include Eagle's Nest, a revolving rooftop restaurant that serves dinner in a formal setting, and One South, which serves American cuisine with an Italian flair for breakfast and lunch.
Photo Credits
monument circle 1 image by Alexey Stiop from Fotolia.com