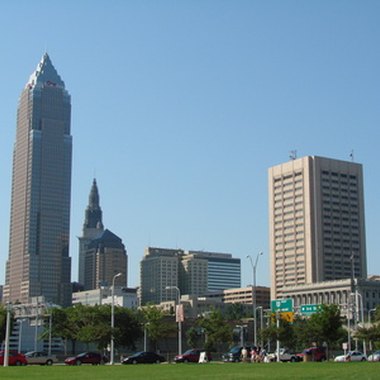 Metro Health is a system of hospitals throughout the city of Cleveland and its suburbs. Receiving consistent awards for quality patient care and nursing excellence, the hospital system's primary location serves as a Level 1 Adult and Pediatric Trauma Center. Its nearly 20 healthcare and wellness facilities provide supporting medical services that include sleep medicine, rehabilitation services and outpatient surgery centers.
Hyatt Regency Cleveland at The Arcade
The Hyatt Regency Cleveland at The Arcade is a historic landmark hotel that rests in the heart of downtown Cleveland's entertainment district. Dining options include the in-house 1890 at The Arcade restaurant serving contemporary American cuisine, as well as Lola, a contemporary restaurant owned by Iron Chef's Michael Symon that rests just steps from the Hyatt's door. The Hyatt is located just three miles from Metro Health Medical Center's Main Campus. The main campus' specialties include pulmonary diseases, cardiac surgery, and comprehensive care.
Hilton Cleveland East Beachwood
The Hilton Cleveland East Beachwood rests just one block from Metro Health's Beachwood location which specializes in audiology, gastroenterology, pain management, plastic surgery, vascular surgery, and the areas of the ear, nose and throat. This pet-friendly hotel accommodates cats and dogs up to 75 lbs. The on-site Porters Seafood & Steakhouse offers classic steakhouse and seafood with a contemporary flare. Guests also have access to hotel shuttle services to Metro Health at Park East.
Residence Inn Cleveland Independence
Residence Inn Cleveland Independence is an all-suites hotel that includes full kitchen areas with separate living areas. A pet-friendly hotel, the hotel features a seasonal, outdoor pool and complimentary access to Fitness 19, an offsite center that is just three miles away. Aside from Metro Health's Main Campus, adult sleep study patients can elect to complete their sleep studies at Metro Health's Center for Sleep Medicine in Independence. This location is just eight miles from the Main Campus and resides within the Residence Inn Cleveland Independence Location. Sleep study patients that elect this location should contact their physician directly for hotel reservation instructions.
Extended Stay America
Extended Stay America Cleveland Brooklyn is less than three miles from Metro Health's Senior Health & Wellness Center. This all-suites hotel offers a full kitchen area with cooking utensils to accommodate longer stays. It offers pet-friendly rooms and full housekeeping services are available for stays that last seven days or longer. Metro Health's Senior Health & Wellness Center is located in Old Brooklyn, just three miles from the Main Campus. This campus provides specialized care for seniors that include home and community nursing care, all-inclusive care, and services to improve and maintain the overall wellness of senior patients.
Resources
Photo Credits
cleveland skyline image by Pix by Marti from Fotolia.com