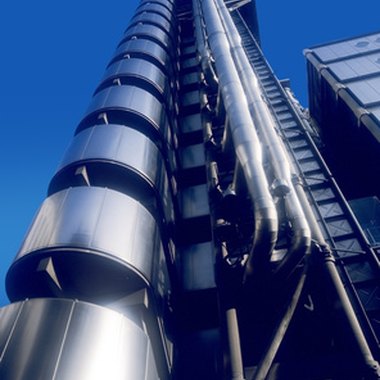 London Wall, a street in the eastern section of central London, has two London Underground stations within a few minutes' walk, providing connections to destinations throughout the capital. Along its length there remain traces of the original Roman fortified wall from which its name derives. At London Wall's western end is the Museum of London, which shows intriguing exhibits on London's history. London Wall has only a small selection of hotels within easy walking distance, and the proximity of London's financial district means that this is not an area for bargains.
Apex London Wall Hotel
The 89 rooms of the Apex London Wall Hotel are set in a sleek, contemporary building 100 yards from London Wall. This boutique hotel has stylish interiors with modern furnishings, and amenities include a gym equipped with cardio-vascular equipment. The Off the Wall Restaurant features floor-to-ceiling windows and serves a modern British menu. Nearby pubs include the Globe and the eccentrically named Old Doctor Butler's Head, which serves traditionally brewed ales. The Guildhall Gallery's fine collection of paintings is a five-minute walk from the hotel.
Threadneedles Hotel
The luxury Threadneedles Hotel is a five-minute walk from London Wall and is set in a splendid former Victorian banking hall topped by a stained-glass dome. The on-site Bonds Restaurant serves a modern French menu in a room that combines original 19th-century features with contemporary styling. The hotel is a 10-minute walk from the Monument, a 235-foot tall tower with a viewing platform built in 1677 to commemorate the 1666 Great Fire of London.
Malmaison London
Set in an ornately decorated Victorian building that once accommodated nurses, the Malmaison London is located in a small cobbled square 10 minutes' walk from London Wall. The Brasserie serves a contemporary international menu, while the Mal Bar features a zinc-topped bar and offers fine wines, champagne and cocktails. One of London's top arts venues, the Barbican Centre, is a 10-minute walk from the hotel. The lively Clerkenwell neighborhood, with its many pubs, cafes and clubs, is a few steps from the hotel.
Andaz Liverpool Street Hotel
A 10-minute walk from London Wall, the Andaz Liverpool Street Hotel is housed in a Victorian building from 1884 built with terra-cotta bricks and features contemporary interiors. The hotel offers five restaurants, including the 1901, with a fine-dining British menu; the Miyako, which focuses on sushi; and the George Pub, which features traditional British food. The hotel offers on-site shopping with a florist, jeweler and luxury shoe shop. Leadenhall Market, 10 minutes from the hotel, is a permanent covered market from the Victorian era with shops, pubs and cafes.
Photo Credits
lloyds of london image by david hughes from Fotolia.com