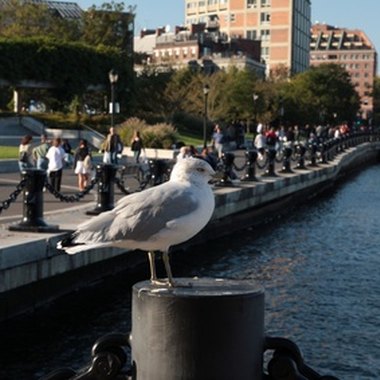 Whether you want a room with panoramic views of Boston Harbor or budget-friendly accommodations, there is a hotel near the John F. Kennedy Presidential Library to suit your needs. The area is home to several hotels with amenities ranging from an on-site bowling alley to en-suite exercise equipment for fitness buffs. The hotels are within walking distance of Boston MBTA-redline subway stations and near nightlife, historic sites and restaurants.
Doubletree Club Hotel Boston Bayside
The Doubletree Club Hotel Boston-Bayside is within a 10-minute walk of the JFK Presidential Library. The hotel is also near the University of Massachusetts Boston campus and the JFK/UMASS MBTA-Redline subway station, which provides access to the North End, home to dozens of restaurants and the city's oldest cemetery, Copp's Hill. Hotel accommodations consist of traditionally decorated guest rooms and suites with city and harbor views; a limited service restaurant serving hot breakfast and light snacks; free Wi-Fi access and complimentary shuttle service to Logan Airport, Boston Medical Center and downtown.
Seaport Boston Hotel
The Seaport Boston Hotel is an upscale waterfront property in the bustling North End. The JFK Presidential Library is within three miles of the hotel and is accessible via the nearby South Station MBTA-Redline subway. Old North Church and Newbury Street are steps away from the hotel; the former is a 18th-century, Georgian-style Episcopal church, while the latter offers shopping, vibrant nightlife and culinary delights. Accommodations include contemporary harbor-view rooms with motion-censored lighting and upscale stereos, as well as PURE rooms, which are 99 percent allergen free. Amenities consist of gourmet dining at Tamo Restaurant, serving up New England clam chowder, barbecued tuna and Colorado lamb; complimentary passes to Wave Health Fitness Center and free valet parking for guests driving hybrid cars.
Ramada Boston Inn
Ramada Boston Inn is a budget-friendly hotel that is adjacent to Interstate 90 and about two miles from the JFK Presidential Library. The hotel is near Quincy Market, an early 19th-century building that offers more than a dozen restaurants; and Philips Candy House, Boston's oldest chocolate manufacturer, which has been making tasty treats since 1925. Accommodations consist of contemporary guest rooms with complimentary Wi-Fi access. Some guest rooms face the interstate; request a room on the opposite side of the hotel to ensure a quieter stay. Hotel amenities include two restaurants, a seasonal pool and the 24-hour Boston Bowl, a fun center offering an arcade, billiards and cosmic bowling.
Westin Boston Waterfront
The Westin Boston Waterfront is connected to the Boston Convention and Exhibition Center,about three miles from the JFK Presidential Library. The hotel is also near the South Station MBTA-Redline subway and the harbor front, which offers water sports, dinner cruises, nightlife and restaurants. Accommodations range from "WORKOUT" guest rooms with cardio equipment, yoga mats and fitness DVDs to harbor view suites, offering panoramic views, fully equipped kitchens and a dining area for six. Hotel amenities include a state-of-the-art fitness center, Irish pub, Starbucks Coffee and Sauciety -- An American Grill, which serves regional cuisine and boutique wines.