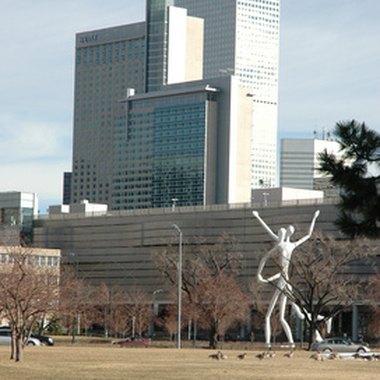 Located in southeast Denver, Yale Avenue meets Interstate 25 in between two of the major traffic arteries in Denver: Colorado Boulevard, the most busy street in Denver, and Hampden Avenue, which is also U.S. Route 285. It is a convenient exit for people who want to stay in between downtown Denver and the Tech Center and is also a good location for people flying into Denver International Airport who don't want to stay downtown.
Embassy Suites Denver-Southeast
Embassy Suites Denver-Southeast is located on Hampden Avenue just west of the Tamarac Square shopping center and across from the Tiffany Plaza shopping center, which includes a Whole Foods store and 24-Hour Fitness, as well as India's Restaurant, consistently rated the best Indian restaurant in Denver. The Regal 10 Theater, with a giant screen, is just west on Hampden. Local transportation is provided, and the hotel is within walking distance of the Denver Light Rail station at Hampden. Embassy Suites guest rooms feel less like a hotel room and more like an apartment, since each has a bedroom and separate living room with a dining room table, and both rooms have a TV. To further increase the homey feel, pets up to 35 pounds are allowed. The hotel also has wheelchair-accessible ADA-approved rooms.
Fairfield Inn & Suites Denver Cherry Creek
Fairfield Inn & Suites Denver Cherry Creek is located on Colorado Boulevard right off I-25, two minutes north of Yale on I-25. Several shopping centers, including a Safeway and the excellent wine store City Wine and Spirits, are across the street, as is a Guitar Center location. Plenty of restaurants, ranging from breakfast places like Le Peep, quick-eat options like Noodles & Company, and pizza like Old Chicago, are all within a five-minute walk. The Evans/Colorado Light Rail is four blocks away. All guests also get a free pass to Bally's Total Fitness. The Fairfield is pet friendly and has a fitness center and indoor pool. A complimentary hot breakfast is served every morning. For families with young children, baby-sitting services are offered at the hotel. You can enjoy your tunes during your stay; all guest rooms feature a stereo system with CD player.
TownePlace Suites Denver Southeast
TownePlace Suites Denver Southeast is located on Monaco Parkway about one mile south of Yale and just off Hampden, right next to the Regal Continental Stadium 10 theater and the Hampden Avenue Light Rail station. Several quick-eat options like Noodles & Company and Wahoo's Fish Taco are around the corner, while more elegant options include the nearby Wellshire Inn on Colorado Boulevard. The TownePlace Suites are neighborhood-style homes that are 25 percent larger than standard hotel rooms. All come with full kitchens, and some have a washer/dryer, excellent for an extended stay. A heated outdoor pool and indoor fitness center are located on site.
La Quinta Inn Denver Cherry Creek
La Quinta Inn Denver Cherry Creek is located on Colorado Boulevard just north of Evans Avenue, one exit north of Yale on I-25. It is across the street from Dave and Busters, which includes a Regal theater with IMAX, and also across the street from the Colorado/Evans Light Rail Station. The La Quinta's location makes it easy to get to Denver University, Cherry Creek, the Denver Tech Center and downtown Denver. Guests at the La Quinta get free breakfast with waffles and hot and cold cereal, and pets are welcome. The inn has an outdoor swimming pool. The exterior has a Southwestern feel to it, and the hotel has two floors with 130 standard rooms and seven suites.
References