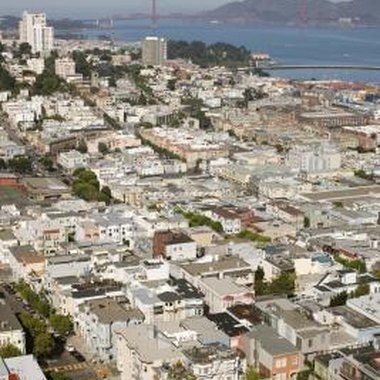 Tourists around the world learn about San Francisco's dynamic culture at attractions like Golden Gate Park and the Haight-Ashbury neighborhood. Golden Gate Park fills more than 1,000 acres with trails, forests and family attractions. Visitors to Haight-Ashbury learn about cultural icons that emerged in the 1960s, such as the Grateful Dead and Jefferson Airplane. The abundance of hotels in San Francisco allows travelers to find hotels, motels and inns within 15 minutes of these attractions.
Bed and Breakfasts
Bed and breakfasts in downtown San Francisco provide cozy accommodations near Bay Area attractions. The Ocean Beach Bed & Breakfast in the Richmond District welcomes guests with fresh-baked cookies and tea in the living room. Guests choose between the Queen Room filled with 19th-century art pieces and the Ocean View Suite with corner windows looking out on the Pacific Ocean. The Union Street Inn in the Pacific Heights neighborhood presents fresh fruit, flowers and chocolates in each guest room. This property maintains a garden patio lined with native bushes, flowers and trees for nature lovers.
Historic Hotels
San Francisco's rich past is displayed in the rooms and public spaces of historic hotels. The Hotel Drisco preserves exterior features dating back to 1903. This Pacific Heights hotel ensures guest comfort with robes, slippers and premium soaps in each room. Attractions like Golden Gate Park and Haight-Ashbury are accessible thanks to the hotel's complimentary town car service. The Chateau Tivoli has evolved from a mansion built in 1892 into a luxurious hotel. Guests are taken back to the Victorian Age with themed rooms named after important figures in the city's history, like Jack London and Mark Twain.
Motels
Motels throughout San Francisco mix unique amenities with affordable accommodations. The Geary Parkway Motel in the Richmond District eases guest concerns about local traffic with free parking. Every room includes framed art and ornate molding to add an upscale feel to the motel experience. Travelers work with the front desk to arrange local tours, taxi rides and limo services. The Marina Motel near Fisherman's Wharf encourages pet owners to bring their furry friends with treats and floor mats. This Marina District motel provides discount vouchers to each guest for breakfast at neighboring Judy's Cafe.
Boutique Hotels
Visitors to San Francisco find myriad boutique hotels near Haight-Ashbury and Golden Gate Park. The Hotel Triton in Union Square embraces eco-friendly measures in each room like organic treats, recycling bins and locally sourced furniture. This boutique hotel works with the ARTworkSF Gallery to present quarterly art exhibitions in the lobby. The Argonaut Hotel features parts of the city's past with exterior doors and lobby decor dating back to the early 20th century. Guests can relax between tours of local attractions with meals at the hotel's Blue Mermaid Chowder House & Bar and in-room massages.
Photo Credits
Jupiterimages/Creatas/Getty Images