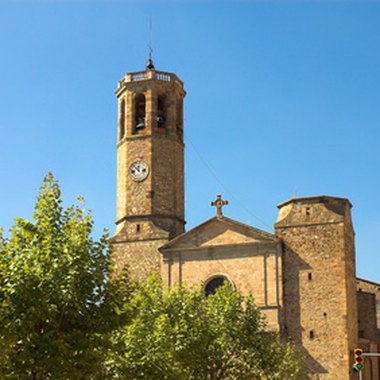 Barcelona's Gothic Quarter, or Barri Gótic, brims with architecture dating back to the period between the 13th and 15th centuries. Major attractions include the Cathedral de la Seu and the medieval palace of the Plaça del Rei where Christopher Columbus was celebrated after his return from the New World. The Gothic Quarter charms its visitors with its tapestry of old churches and guild houses set amid scenic squares and courtyards. Hotels abound here, and Frommer's Travel Guide notes that this part of town offers tourists a particularly affordable array of distinctive lodging options.
Hotel Neri
Frommer's ranks the Hotel Neri as one of the most exceptional establishments in Barcelona's Barri Gótic. This upscale hotel occupies a 17th-century palace looking out over the square of Plaça Sant Felip Neri. The hotel's interior features a medieval atmosphere enhanced by gold leaf decor, throw rugs, red velvet drapes and dimly lit hallways. The hotel's attractive amenities include a rooftop garden terrace with a cocktail bar and an on-site restaurant which boasts a gourmet Catalan menu.
Hotel Duquesa de Cardona
The Hotel Duquesa de Cardona stands out as one of the more chic and options in the area. Situated just a few minutes by foot from the Gothic Quarter, this hotel overlooks the harbor of Port Vell. The Duquesa de Cardona was originally built in the 16th-century as a townhouse, but it has been fully refurbished to provide modern facilities with art deco designer touches. Fodor's Travel Guide recommends this hotel for its central location as well as its rooftop plunge pool and Jacuzzi. An in-house restaurant with original marble tiling serves Mediterranean fare, and a terrace lounge enables guests to enjoy a drink while looking out over the port.
Hotel Colón
The Hotel Colón is ranked the best place to stay in Barcelona in terms of comfort, style, affordability and location, according to Fodor's Travel Guide. The hotel sits immediately opposite the main cathedral of the Gothic Quarter, offering guests splendid views of the cathedral plaza where weekend sardana dancing -- a Catalan folk dance -- takes place, and antique markets pop up on occasion. A neoclassical facade conceals traditional Catalan-patterned decor spread throughout the on-site restaurant and bar as well as 44 cozy guest rooms. Frommer's suggests asking for a room with a balcony on the sixth floor to get panoramic views of the neighborhood. Amenities here include a restaurant and bar.
Hostal Gat Raval
Travelers on a tight budget may opt for something cheaper like the Hostal Gat Raval. This establishment may have small rooms with little in the way of luxury, but Fodor's recommends it as one of the best values in Barcelona lodging. Located near the Gothic Quarter in the cosmopolitan Raval neighborhood, this building sits just around the corner from Barcelona's Contemporary Arts Museum (MACBA). Inside, guests will encounter sleekly designed rooms with bright colors and modern decor. Notable amenities here include an in-house bicycle rental service as well as vending machines and laundry facilities.
Photo Credits
temple in barri gothic image by Denis Babenko from Fotolia.com