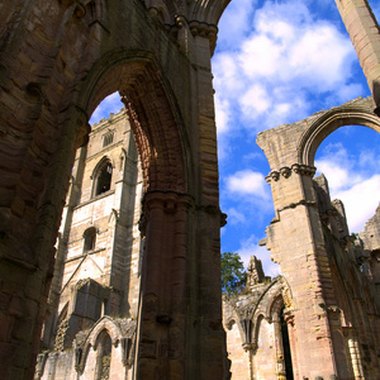 Visiting history buffs and gardeners will find a good choice of traditional English town and country accommodations near Fountains Abbey, the ruins of a 12th-century Cistercian monastery, which is Yorkshire's only UNESCO World Heritage Site. It's surrounded by the National Trust-owned Studley Water Gardens.
A Historic Landmark -- The Old Deanery
The Old Deanery, a small hotel in one of Ripon's most historic houses, was built in 1625 for the canons of 800-year-old Ripon Cathedral across the street. A massive, 17th-century oak staircase is the central feature of the house, and each of the hotel's eleven guest rooms has its own character and original features. These include four-poster beds, 17th-century plaster cornices, Victorian slipper baths and, in Room 6, original Jacobean-painted paneling. A few original ghosts may be knocking around as well, and as recently as 1974, during building works, a secret, fully functional door was revealed, having been encased in walls for at least 150 years.
A Country House -- Hob Green Hotel
Hob Green is a small, country house hotel set in a Yorkshire in Bloom Award-winning gardens just three miles from Fountains Abbey. The 18th-century house was, until the 1980s, the home of the Hutchinson family, who continue to own and manage it. The hotel has a period ambiance that would not be out of place in a Jane Austen novel, with original antiques in many of the rooms. Accommodations are available on a bed-and-breakfast or dinner-, bed-and-breakfast basis, with much of the produce grown in Hob Green's original Victorian walled garden.
A Castle -- Swinton Park
Swinton Park is the ancestral home of the Cunliffe-Listers, the latest generation of whom are still in residence, managing the hotel and greeting guests. A family home since the 1800s, the oldest parts of the castle date from the early 1600s. Family portraits gaze down from the walls of the antique-furnished public rooms, while each of the 30 guest rooms is decorated with a different Yorkshire theme. The grounds include a restored orangery, which now houses a bird of prey center and a 4-acre walled kitchen garden, the largest hotel kitchen garden in the UK.
A Golf Resort -- Rudding Park
Rudding Park is a privately owned luxury hotel and golf course, just south of Harrogate, which readers of National Club Golfer Magazine named the top "UK golf course to play and stay" in 2009. The hotel is also one of the Automobile Association's top 200 UK hotels. Accommodations in the 50-room hotel overlook either the gardens or the estate's chapel and have contemporary decor. A new, 48-room extension with larger, garden-view rooms was nearing completion on October 2010.
Resources
The Old Deanery; Minster Road; Ripon; North Yorkshire, HG4 1QS; 011-44-176-560-0003
Rudding Park: Follifoot; Harrogate; North Yorkshire HG3 1JH; 011-44-142-387-1350