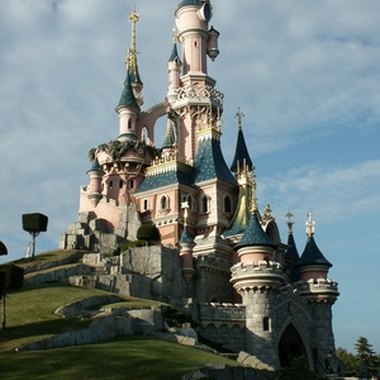 Roughly 20 miles east of central Paris, Disneyland Paris, formerly known as Euro Disney, encompasses two theme parks, Disneyland Park and Walt Disney Studios Park. Because these sprawling theme parks are hard to explore in a single day, many visitors shop for accommodations close to all of the action. They can choose from a broad selection of hotels located both inside the Disneyland complex and in the areas immediately adjacent to the parks.
Disneyland Hotel
Housed in a rambling Victorian structure and accented by bright-red turrets and multiple balconies, the centerpiece of the Disneyland hotels lies close to the park entrance. Its guest rooms, suites and common areas evoke some of the themes and characters that millions of fans have come to associate with Disney films and products over the years. Rooms and suites near the rear of the hotel overlook popular theme park attractions including Big Thunder Mountain and Sleeping Beauty's Castle. The hotel's 496 guest rooms and suites feature mini-bars and private bathrooms with marble decor. High-speed Internet access is available for an additional fee. Other hotel amenities include a full-service spa and two restaurants, the California Grill for fine dining and Inventions Restaurant, which serves meals buffet-style.
Dream Castle Hotel
Modeled after a 17th-century French chateau, this sprawling hotel sits just outside Disneyland Paris and is convenient to rail and bus service into central Paris. Travelers seeking to shake off the aches and pains of international travel can enjoy some pampering with a treatment in the hotel's Dream Castle Spa, which also features an indoor swimming pool, hot tub, sauna and exercise room. Accommodations include a total of 397 standard-size hotel rooms, family rooms and suites, all of which have in-room safes and mini-refrigerators. On-site dining options include the Sans Souci, which serves a breakfast buffet from 7 to 11 a.m. daily; Excalibur Bar for snacks and drinks; and Musketeers, which features a dinner buffet showcasing French cuisine.
Radisson Blu Hotel at Disneyland Paris
Popular with golfing enthusiasts, this 250-unit hotel is nestled amid the fairways and greens of Disneyland Paris' 27-hole golf course and is only a short drive from the entrance to the Disney theme parks. Unlike many of the other area hotels, the Radisson offers its guests high-speed Internet access at no additional charge. Accommodations range in size from the 323-square-foot standard room to suites of up 750 square feet. Guests who'd like to sample fine French cuisine will find what they're looking for in the hotel's Pamplemousse restaurant. The Birdie restaurant serves a breakfast buffet from 7 a.m. to 10:30 a.m. daily.
Sequoia Lodge
One of the official Disneyland Paris hotels, the Sequoia offers mid-range rates and a wholly different atmosphere than those found in its fellow resort properties. Fodor's says the hotel "conjures up the ambiance of an American mountain lodge." That theme carries over into the hotel's guest rooms and suites, which feature rustic wooden furniture and decor but still manage to deliver the 21st century amenities most travelers demand. Several of the hotel's rooms overlook Lake Disney. Recreational facilities include indoor and outdoor swimming pools, hot tubs, sauna and fitness center. On-site dining options include Beaver Creek Tavern, which specializes in international cuisine in a relatively formal setting, and Hunter's Grill for buffet-style meals.