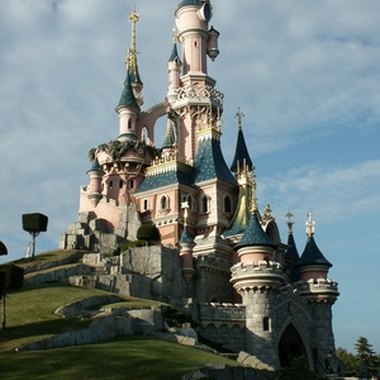 When visiting the "Happiest Place on Earth," it pays to stay within close proximity, especially when traveling with kids. Visiting Disneyland can be a whirlwind vacation for kids, but it also takes its toll on parents. Finding accommodations near the amusement park provides the convenience of avoiding traffic thus allowing tourists and locals to enjoy more of the attractions.
Resort Hotels
The Disneyland Resort Hotels, located just outside the amusement park and adjacent to the restaurant and shopping promenade, feature services and amenities that cater to both kids and adults. Each themed resort offers a different feel and experience. In addition to offering early entrance into the park, Disney's Grand Californian Hotel and Spa, the Disneyland Hotel, and Disney's Paradise Pier Hotel feature services for every type of family. Guests looking for luxury and frills may enjoy the AAA four-diamond Disney's Grand California Hotel and Spa, which takes on the Arts and Crafts motif. Disney's Paradise Pier Hotel offers a more laid pack vibe with a beach-themed hotel that provides a range of rooms from comfortable lodgings to concierge luxury. The Disneyland Hotel continues with the magical and dreamy atmosphere consistent throughout the park. It provides standard and club-level suite accommodations.
Contemporary
The Best Western Park Place Inn and Mini Suites, a three-diamond AAA rated hotel, is across the street from the Disneyland Resort and two miles from Angels Stadium and the Honda Center. After a long day at the park, families can seek refuge in comfortable and pleasant guest rooms decorated in a simple style. However, the hotel also offers perks and amenities, such as concierge services and tour desk.
Affordable Stay
The Castle Inn & Suites, located across from the Disneyland Park and Disney's California Adventure Park, features affordable lodgings with the basic necessities for a comfortable stay for the entire family. This AAA-approved hotel is decked out in the castle motif and offers an array of rooms ranging from standard to family suites. The hotel is also within walking distance to the Anaheim Convention Center.
Modern
The Anaheim Hilton Hotel is a non-smoking environment with chic, stylish and modern accommodations. The hotel, with its three-diamond rating from AAA, is next to the Anaheim Convention Center, which allows guests to walk to Disneyland Park. It's designed for the corporate traveler, but caters to families and provides amenities and services for guests visiting the amusement park.
References