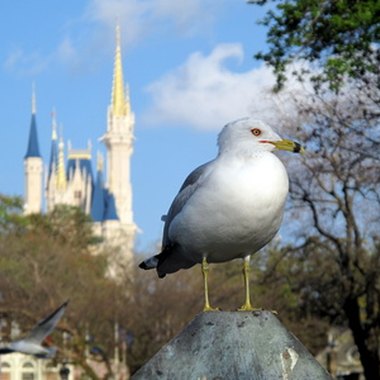 Walt Disney World is near several hotels that offer complimentary breakfasts to fully-energize you before heading out to tackle area theme parks. The hotels range from a resort-style property with a dizzying array of amenities for the young and young-at-heart, to an intimate boutique hotel that provides complimentary shuttle service to Orlando's top theme parks. In addition to their proximity to Walt Disney World, the hotels are also near shopping districts, restaurants and I-4, which provides access to downtown attractions.
Quality Suites Royale Parc Suites
The Quality Suites Royale Parc Suites offers moderately priced resort-style accommodations within one mile of Walt Disney World Resort and the 300-feet SkyCoaster bungee ride. Accommodations consist of one- and two- bedrooms suites with kitchenettes, dining areas and sleeper sofas. Two bedroom suites also offer up to four beds and are laid out in roommate floor plans. Recreational highlights include a fully-equipped fitness center, lagoon-style- and children's- pools and a game room. Dining options consist of complimentary breakfast buffet with hot and cold selections, free alcoholic beverages and soft drinks at nightly manager's receptions and a lounge deck.
Comfort Suites Maingate East
The Comfort Suites Maingate East offers affordable accommodations approximately two miles from Walt Disney World Resort. The hotel is adjacent to the Old Town entertainment district, which offers shopping, dozens of restaurants and amusement park rides. Guest suites are offered in studio-, one-, two- or three- bedroom configurations with sofa beds and mini fridges. Hotel dining options consist of a poolside pizzeria and complimentary continental breakfast buffet with cooked-to-order waffles, eggs, pastries and yogurt. Additional amenities include a kid's pool, a Jacuzzi and complimentary shuttle service to Walt Disney World, SeaWorld and Universal Orlando.
Galleria Palms Hotel
The Galleria Palms Hotels is a stylish boutique property that features a subdued décor in comparison to the more vibrant accommodations generally found in Orlando area hotels. The property is within four miles of Walt Disney World, ESPN Wide World of Sports Complex and I-4. Accommodations consist of contemporary guest rooms with platform beds and marble baths featuring glass enclosed rainfall showers. Amenities include an outdoor pool with sun deck, 24-hour fitness center and complimentary hot breakfast buffet. The property also offers complimentary shuttle service to the Magic Kingdom, Epcot Center, Universal Orlando and SeaWorld theme parks.
Hampton Inn and Suites Orlando South Lake Buena Vista
Hampton Inn and Suites Orlando-South Lake Buena Vista is a moderately-priced lodging choice within three miles of Walt Disney World. The property is also within a 20-minute drive of Universal Orlando, SeaWorld and downtown Kissimmee. Accommodations consist of contemporary guest rooms with mini fridges and sofa beds. Recreational facilities include a heated outdoor pool and a fitness studio offering cardio equipment and free weights. Complimentary breakfast options include a choice of to-go bags or a fully-stocked buffet with waffle stations, ham, sausage, eggs, muffins and juices.
Resources
Comfort Suites Maingate East; 2775 Florida Plaza Blvd.; Kissimmee, FL, 34746; 407-397-7848