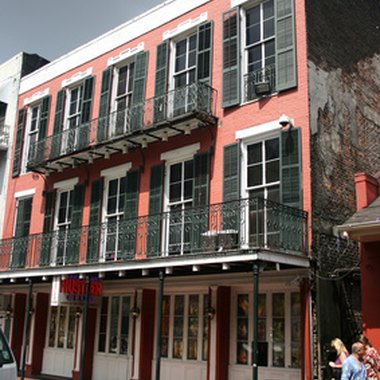 The National World War II Museum in New Orleans, Louisiana, is often called the D-Day Museum since that is its web address. The museum opened on D-Day (June 6) in 2000. But more than remembering a single great battle, the National World War II museum remembers the entire conflict. For those who come to visit the museum each year, several accommodations sit within a short walk to the museum.
Hotel Le Cirque
Just 0.13 miles from the National World War II Museum, Hotel Le Cirque is the closest accommodations to the museum. It is also in the Arts District and within walking distance of the French Quarter. It is one of the new hotels in the area. If you visit during Mardi Gras, you get to watch more than 23 parades from the hotel, according to the Hotel Le Cirque website. If you want to get around town, walk out the front door of the hotel and catch the streetcar on the St. Charles Avenue line.
American Creole House
Stay in a historic townhouse 0.19 miles from the National World War II Museum when you book a room at the American Creole House. This bed and breakfast is located in an 1852 Creole townhouse that was renovated in 2007. Stay in a suite with a full kitchen or a studio room with a wet bar. The American Creole House is located on the edge of the Garden District and on the Charles Avenue Streetcar line.
Maison St. Charles Hotel and Suites
The Maison St. Charles Hotel and Suites are spread over three acres and located just 0.29 miles from the National World War II Museum. The 113 rooms and 15 suites are located in historic antebellum homes with high ceilings and crystal chandeliers. Enjoy a free continental breakfast each morning at one of three patio areas. Relax in an outdoor pool and spa tub. One pet per guest room is welcome with a $50 nonrefundable deposit.
The Lafayette Hotel
The Lafayette Hotel is 0.35 miles from the National World War II Museum. This historic 1916 landmark features the building's original French doors and wrought iron balconies. The foyer has Italian marble and wood moldings, English carpets and a French polished mahogany front desk. The rooms have marble baths and a private sitting room, and are individually decorated with designer fabrics.