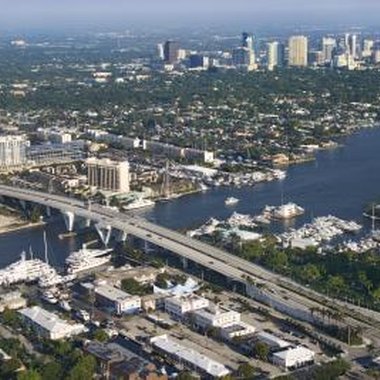 Port Everglades is a cruise port in Fort Lauderdale, Florida, that plays a crucial role in commerce and industry and also is home to 55 cruise ships representing 15 cruise lines. The port welcomes an average of 3.5 million passengers per year. It is generally recommended that you arrive the day before your cruise to account for travel delays, and some hotels near the cruise port offer package deals that include a pre-cruise stay and parking during your cruise.
Renaissance Fort Lauderdale Cruise Port Hotel
The Renaissance Fort Lauderdale Cruise Port Hotel is an excellent choice for early risers. Ask for a room with a view of the port, and you might be able to see your ship arrive in the early morning hours. Hotel amenities include plush bedding, in-room safes designed for laptop storage, mini-bars and wireless Internet. The hotel offers an on-site fitness center, an outdoor heated pool and two restaurants. Note that cruise parking is not included and the nightly parking fee is steep.
Holiday Inn Express Fort Lauderdale Convention Center
The Holiday Inn Express Fort Lauderdale Convention Center is two miles from Fort Lauderdale Airport and within walking distance of the cruise terminal. A complimentary airport shuttle is provided, and cruise passengers may park for a nominal per-night fee for the duration of their cruise. Hotel amenities include a complimentary breakfast buffet and morning newspaper, a 24-hour fitness center and a business center. All rooms have microwaves and small refrigerators.
Embassy Suites Fort Lauderdale
The Embassy Suites Fort Lauderdale is four blocks from the cruise port. The hotel offers a pre-cruise package that includes transportation from the airport to the hotel and from the hotel to the cruise port along with one night's stay. If you bring your car, this package qualifies you for discounted nightly parking during the cruise. Return transportation is available for a nominal fee. The Embassy Suites provides a cooked-to-order breakfast each morning and an evening reception with light snacks. The all-suites hotel provides separate living rooms and kitchenettes with a microwave and refrigerator. Amenities include a fitness center, business center, on-site restaurant and lounge, and room service.
Hilton Fort Lauderdale Marina
Conveniently located across the causeway from the cruise terminal, the Hilton Fort Lauderdale Marina offers a pre- or post-cruise package that includes a complimentary room upgrade and two tickets on a romantic water taxi. Hotel amenities include a concierge desk, boat rentals, beach shuttle service, an outdoor swimming pool, poolside dining and a full-service restaurant with room service. Pets are allowed with a nonrefundable deposit.
References
Photo Credits
Thinkstock/Comstock/Getty Images