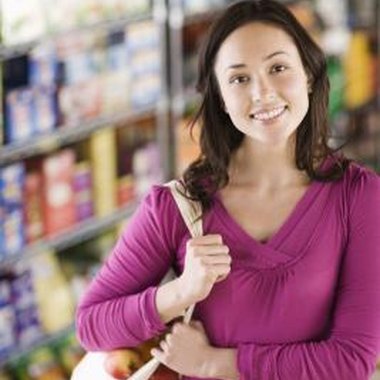 Grand Forks, North Dakota, is home to the Grand Forks Air Force Base, the North Dakota Museum of Art, and the shopping haven known as the Columbia Mall. The single-level shopping mall is home to more than 70 high-profile stores, restaurants, boutiques and service outlets. Sears, JCPenny and Macy's are the three department store anchors. A ring road circles the mall, and several enterprising hoteliers have placed properties within walking distance of all the fun.
Roadking Inn Columbia Mall
The locally owned Roadking Inn is one of the two closest properties to the mall, sitting right on the ring road at 30th Avenue. The red brick facade with arched windows and white trim is a bit of contrast with the roof-wide blue and white sign, but it does make the property hard to miss. Guest rooms are reasonably priced, including the Jacuzzi Suites with two person hot tubs within a few feet of the bed. Continental breakfast is included in all room categories, served in a dining area just off the lobby. Other amenities include a business center and a courtyard with an adult and children's pool as well as four hot tubs. Small pets are welcome with the payment of a nightly fee.
Comfort Inn
Comfort Inn is the second closest property. The faintly pink and white facade faces Columbia Mall at 30th Avenue and caters to business travelers as well as those in town to do a bit of shopping. Rooms are simply furnished in a contemporary style, are reasonably priced and include breakfast and free wireless high-speed Internet access. Take a dip in the year round heated pool and hot tub after your hard day at work or shopping at the mall. A business center including a printer, computer and fax machine is available just off the lobby. Car plug-ins, which keep engine fluids from freezing, are available in the parking lot. These come in real handy in a North Dakota winter.
C'mon Inn
Located one block south of the Columbia Mall, the C'mon Inn offers a bit of friendly hospitality with a bit of a country twist. Rooms face a landscaped central courtyard complete with trickling stream and wooden bridges. Five hot tubs are placed among the trees and bushes as well as a large swimming pool, a kid's pool and groupings of patio furniture. The covered atrium-style area is open all year. All 80 rooms include 42-inch plasma TVs and wireless Internet access. Eight suites include an in room jetted tub for two. An exercise room and game room are also on-site. Dine at the hotel's Golden Corral Restaurant, or choose from places like the Texas Roadhouse or Grizzly's. Or take a walk to the Columbia Mall and combine a bit of shopping with a visit to the food court.
Fairfield Inn Grand Forks
The Fairfield Inn Grand Forks is less than one block west of Columbia Mall's main entrance. Part of the Marriott brand, rooms are moderately priced and offer contemporary furnishings and bold, bright colors, also found in the open-air lobby. The exceptions to the bright color scheme are the business center and the indoor pool and hot tub area. The latter is an expanse of off-white walls with a checkered trim and tan floor tiling. Guest rooms offer high speed Internet access, 27-inch flat-screen TVs with premium cable, and Sony radios. Dine at the local Texas Roadhouse or at the assortment of restaurants at Columbia Mall.
Photo Credits
Jupiterimages/Brand X Pictures/Getty Images