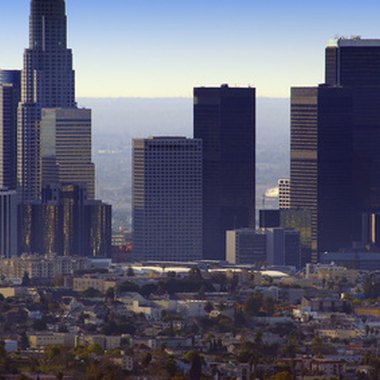 Hotels near the Club Nokia event theater are surrounded by downtown Los Angeles' hottest attractions. The properties are as diverse as the city itself, ranging from affordable boutique accommodations with a Middle Eastern flair to a towering luxury hotel that overlooks the city. The hotels are within a stone's throw of Staples Center, home of the Los Angeles Lakers basketball team; the Grammy Museum, which offers extensive exhibits on a host of legendary music artists; and restaurants and nightlife in Chinatown.
Figueroa Hotel
The Middle East meets the West Coast at Figueroa Hotel, a Moroccan-themed boutique property within a short stroll of the Club Nokia event theater, Staples Center and L.A. Live. The hotel's architecture dates back to the early 1920s, when it served as the YWCA. The property features a Spanish-Colonial Gothic lobby with Arabian-inspired furnishings and contemporary guestrooms with vibrant decors, beamed ceilings and exposed cement floors. The property offers several individually decorated guest suites with wrought-iron or platform beds, throw pillows and Persian rugs. Amenities include a garden deck with a mosaic-tiled swimming pool and Jacuzzi; an on-site night club; and Verandah Bar, which serves cocktails under the stars.
JW Marriott Los Angeles at L.A. Live
The JW Marriott Los Angeles at L.A. Live is a modern luxury hotel that shares a 52-story mixed-use facility with the Ritz-Carlton Hotel at L.A. Live and the Ritz-Carlton Residences. The property is within two blocks of the Club Nokia event theater, Staples Center and the Grammy Museum. Guestrooms feature high-end contemporary furnishings, iPod docks, leather sofas and panoramic city views. Recreational facilities include a state-of-the-art fitness center with cardio theater and circuit weights; a rooftop pool; and access to the Ritz-Carlton Spa, which offers massages, steam rooms and body scrubs. Dining options are highlighted by Wolfgang Puck's Asian-inspired WP24 Restaurant and Lounge, which is located on the 24th floor of the Ritz-Carlton Hotel at L.A. Live.
O Hotel
O Hotel is a trendy boutique property offering accommodations for the young and hip. The hotel is a five-minute walk from the Club Nokia event theater and Staples Center, and approximately two miles from Chinatown. Guestrooms feature ultramodern décor, platform beds with lacquered headboards, pedestal sinks and iPod docks. Suites offer more space, panoramic downtown views, DVD players and mini fridges. Amenities consist of in-room spa services, which also include a choice of yoga, Pilates, Thai Chai or hip-hop dance classes, and a fashionable lounge that offers cocktails and premium beers. Dining options are highlighted by O Kitchen, a dimly lit eatery that serves shrimp and grits, grilled salmon and braised beef ribs.
The Ritz Milner Hotel
The Ritz Milner Hotel is a downtown boutique property that is high on character and low on cost. The property is steps away from the Club Nokia event theater, Staples Center and the 7th Street Metro subway station, which provides access to Hollywood. Accommodations range from quaint guestrooms with traditional decor and renovated baths to spacious suites with sitting areas and dining tables. Amenities consist of a complimentary breakfast buffet that includes yogurt and self-service waffles, and a 1940s-themed pub offering cheap beers, a vintage popcorn machine and leather booths that can accommodate up to eight people.