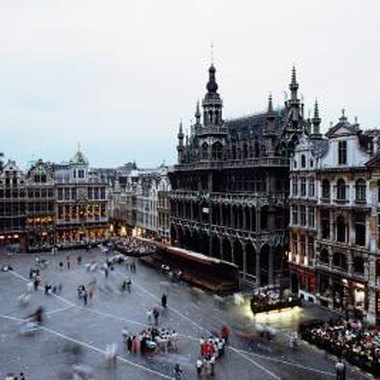 Brussels' main railway terminus, Central Station, is set in the very heart of the Belgian capital, five minutes' walk from the splendid architecture of the city's main square, Grand Place, which offers a selection of restaurants and cafes. The station extends over two sites within 200 yards of each other, and provides urban, national and international rail services. Central Station has a choice of hotels nearby, ranging from the luxury to the budget ends of the market.
Hotel Centrale Bruselas
Built in Art Nouveau style, the seven-story Hotel Centrale Bruselas is a few steps from Central Station. The hotel provides a breakfast buffet each morning. Try a number of nearby dining options for other meals, including Le Bier Circus, which serves a bar menu and authentic Belgian beers, and Mead's Provence, which offers classic French cooking. The green spaces of Parc de Bruxelles, which includes classical statuary and mature trees, are a five-minute walk from Hotel Centrale.
Hotel Novotel Brussels Off Grand Place
The 138 rooms of the Hotel Novotel Brussels Off Grand Place are set in a property built in traditional Belgian style with stepped eaves. A few minutes' walk from Central Station, the hotel has a fitness center, and a restaurant, Foodsquare, which is open 24 hours and serves a brasserie menu. Historic Grand Place, with its Gothic town hall and townhouses dating back to the 18th century, is a few steps from the hotel. A five-minute walk from the hotel, the Palais des Beaux-Arts stages jazz and classical concerts and exhibits art from all eras.
Sandton Hotel Brussels Centre
Just around the corner from the Central Station, the Sandton Hotel Brussels Center is set in a building with contemporary architecture. This six-story hotel has 70 rooms, offers underground parking for a fee and provides breakfast each morning. For other meals, nearby restaurants include Le Char d'Or, which serves classic French dishes, and Le Calalou, which offers Belgian and French specialties. A few steps from the hotel, the magnificent St. Gudule and St. Michael's Cathedral has parts dating from the 11th century.
Hotel La Madeleine
Set in a building with an ornate façade dating from the 15th century, the budget Hotel La Madeleine is five minutes' walk from Central Station. Guests eat breakfast at the hotel; other dining options within a 10-minute walk include L'Estaminet du Kelderke, which overlooks Grand Place and serves a traditional Belgian menu, and Le Lotus Bleu, offering Vietnamese food. A couple of minutes' walk from Hotel La Madeleine, the Galeries Royales Saint-Hubert is a 19th-century indoor shopping arcade with upmarket stores, cafes and restaurants.
Photo Credits
Jupiterimages/Photos.com/Getty Images