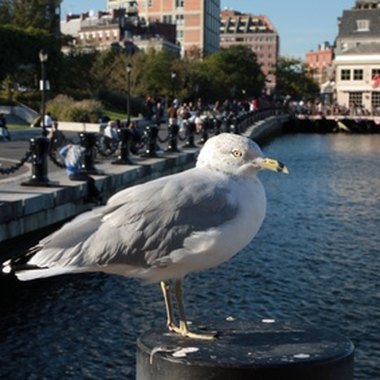 Boston's fashionable North End and Waterfront district is within walking distance of the Boston Fish Pier, the oldest continually working fish pier in the United States. The area has changed dramatically since since the completion, in 2007, of Boston's massive infrastructure project, "The Big Dig." Neighborhoods that were "up-and-coming" for years finally arrived along with dramatic new or newly revitalized hotels.
Seaport Boston Hotel
Seaport Boston Hotel is part of the Seaport Boston World Trade Center complex, one of Boston's exhibitions and conference centers. Taller than most of the surrounding buildings, the hotel has guest rooms with good views over the city and Boston Harbor. Rooms are well equipped for business travelers and vacationers. Among this hotel's unusual features are its "Pure Rooms," which are professionally treated to minimize allergens and irritants and certified hypoallergenic.
Renaissance Boston Waterfront Hotel
Another post-millennial addition to the Boston waterfront scene, this hotel is close to Boston's architecturally dramatic convention center. Rooms and suites, with views over the city or the waterfront, have a good selection of entertainment media and business technology though a fee is charged for use of the Internet. The hotel has a modern American restaurant but is also located in an area rich with seafood and fine dining options. To help guests "live like a local," the hotel offers a weekly updated, online information service known as the Renaissance Navigator.
The Intercontinental Boston
The Intercontinental confronts Boston Harbor with a massive, stepped facade of mirrored glass and granite. Within this futuristic exterior, rooms are comfortably contemporary rather than ultra modern, with soft, upholstered furnishings, heavy blackout draperies and floor-to-ceiling views of either downtown or the waterfront. Guests staying on any floor can register for access to the hotel's 12th-floor Club Lounge where the staff serves beverages, snacks and desserts, and wireless Internet is free.
Boston Harbor Hotel
Condé Nast Traveler chose the Boston Harbor Hotel for its Gold List of the world's best places to stay. The five-star waterfront hotel occupies part of Rowes Wharf, a Boston landmark. The hotel has 230 guestrooms and suites decorated to reflect the wharf's historic status in a characteristically Bostonian style of traditional furnishings and rich fabrics. The hotel offers a kids' program with games, toys, cribs and other amenities delivered to the room on request.