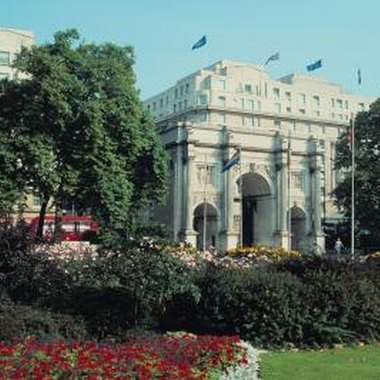 Central London's Bond Street is actually divided in two: New Bond Street and Old Bond Street. To add to the confusion, London Underground's Bond Street Station is a couple of blocks away on Oxford Street. Joined by a pedestrian alley, New and Old Bond streets run a half-mile north to south between Oxford Street and Piccadilly. The neighborhood is Mayfair, one of London's smartest and wealthiest districts. Nearby attractions include the Royal College of Arts, Hyde Park and the louche nightlife of Soho.
The Westbury Hotel
A liveried porter in a top hat greets guests at the door of the luxury, eight-story Westbury Hotel on Conduit Street, just off New Bond Street. The 246 rooms, including 20 suites, all come with complimentary newspapers, bathrobes and slippers. The hotel's restaurant, the Artisan, offers a fine-dining menu with choices like roast Scottish lobster and Darjeeling tea smoked breast of squab pigeon. Dover Street Market, an upscale mall specializing in fashion, is a five-minute walk from the hotel.
Claridge's Hotel
Just 200 yards from New Bond Street, Claridge's Hotel was established on the current site in the early 19th century. Opened in 1898, the current building features immaculate, marbled Art Deco interiors. The hotel has a gym, and the spa offers a range of luxury beauty treatments. Gordon Ramsay at Claridge's serves a fine-dining menu created by the celebrity chef. Many from the ranks of the rich and famous have patronized the hotel over the years, including Audrey Hepburn. Claridge's insisted that Hepburn use the staff entrance because her slacks contravened the 1950s dress code.
Radisson Edwardian Berkshire Hotel
By Mayfair standards, the Radisson Edwardian Berkshire Hotel is the nearest thing to a budget option since it has only four stars, rather than the five that other nearby establishments boast. The hotel is at the northern end of New Bond Street, adjacent to busy Oxford Street, a shopping Mecca for tourists and Londoners alike. On-site Ascots Restaurant serves a modern British menu in a room with a natural-wood floor and leather furniture. The Handel House Museum, an authentically restored, 18th-century townhouse where the composer lived for 36 years until his death in 1759, is a short walk from the hotel.
Brown's Hotel London
Brown's Hotel London, the first hotel established in the capital in 1837, remains a byword in luxury accommodation for people with deep pockets. It was good enough for President Franklin D. Roosevelt, who spent his honeymoon there with bride Eleanor in spring 1905. The hotel spa offers beauty and relaxation treatments. Brown's on-site restaurant, HIX at the Albemarle, specializes in classic British dishes and fish, served in a wood-paneled room with discreetly understated decor. The English Tea Room serves breakfast and light meals, as well as an outstanding English afternoon tea, named as "Top London Afternoon Tea 2009" by the Tea Guild.
Photo Credits
Jupiterimages/Photos.com/Getty Images