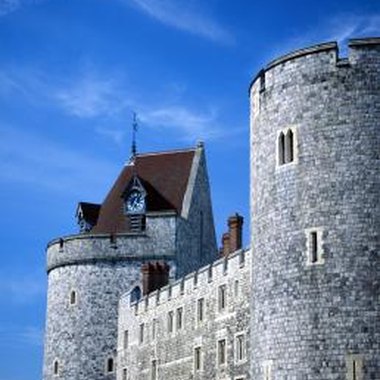 Binfield is a small town in the English county of Berkshire, a few minutes' drive from the larger community of Bracknell, which has a railway station with connections to London, 36 miles east. By car, Binfield is a one-hour journey from the capital. The town has only one hotel, but others are within a five-minute drive. Nearby attractions include Windsor Castle, where the grounds and parts of the castle are open to the public, and Legoland Windsor, a theme park celebrating the ubiquitous plastic bricks.
White Gates Hotel
The White Gates Hotel is set in a modern building in traditional English village style in Binfield. The hotel provides breakfast. Nearby options for other meals include Daruchini, which serves Indian and Bangladeshi dishes, and the Stag and Hounds, a traditional English pub housed in a 14th-century building, which offers classic British dishes with a contemporary twist. A few minutes' drive from the White Gates Hotel, the Blue Mountain Golf Centre's 18-hole, par-70 course is open to visiting players.
Fines Bayliwick Hotel
A five-minute drive from the center of Binfield, the Fines Bayliwick Hotel is set in a 19th-century country house featuring a conservatory and surrounded by gardens. The 18 guest rooms are decorated in Victorian style and some retain original features, such as fireplaces. The hotel serves breakfast. Restaurants within a five-minute drive include Loch Fyne, which specializes in fresh seafood from Scottish waters, and Koh-I-Noor, offering Indian food. Lily Hill Park's 57 acres, which include an Edwardian water garden and a wildflower meadow, are a 10-minute drive from the Fines Bayliwick.
Coppid Beech Hotel
One mile from Binfield, the Coppid Beech Hotel is on the northern outskirts of Bracknell, a five–minute drive from the restaurants and pubs in the center of town. Housed in a contemporary building with 205 bedrooms, the hotel's Waves Health and Fitness Club includes an indoor pool, gym and sauna. Guests can also take part in exercise classes or top up their tans on the sunbeds. The on-site Rowans Restaurant serves a modern British menu with Mediterranean influences, while the Keller offers informal dining and live music at weekends.
Travelodge Bracknell Hotel
The Travelodge Bracknell Hotel is one mile from the center of Binfield and a five-minute drive from downtown Bracknell. The hotel is part of a national low-cost chain offering simple lodgings. Breakfast is provided and guests enjoy free parking. Bracknell offers a choice of eateries. These include two Indian restaurants, the Passage to India and the Shahi, and the Downshire Arms, which serves British and international dishes. Ascot, home to one of England's leading horseracing tracks, is a 15-minute drive from the hotel.
Photo Credits
Brand X Pictures/Brand X Pictures/Getty Images